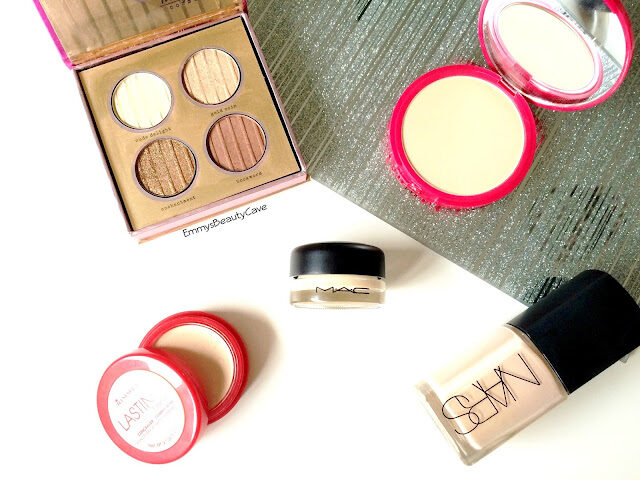 Whether we like to admit it or not we are influenced by others in many ways. Being a blogger means we will always see new product releases or products people seem to love and of course that will sometimes make us want them too. Im not one to rush out and buy every new release, i do try and only buy products i am really interested in and not buy them just because of the brand. I have gone through my makeup and picked out products i mainly bought because of the hype around them. I have a couple of posts like this lined up as i have alot of products but i thought it would be good to see whether or not they are actually worth the buy.
Tanya Burr Hollywood Eyes Palette | £5.99
When the Tanya Burr Collection was released i didn't rush to buy anything. I bought this palette a few weeks after the release and it is the only item i bought from the collection. Bloggers went mad for this as of course its a fellow blogger. The packaging is pretty and girly as we expected. I love a good bronzey smokey eye so this palette looked perfect. The gold shimmer shade "enchantment" is my least favourite as it isn't very pigmented and has alot of flakes in it. If you want to see the swatches click here to read my full review.
Repurchase: Probably not even though some shades are pretty.
Bourjois Healthy Balance Powder | £8.99
Many bloggers rave about the Bourjois Healthy Mix range so when i saw alot of bloggers raving about this matte powder i had to try it. I love matte powders but this just doesn't do it for me. I found it went quite patchy on me no matter what base products i used. It didn't keep me matte for long at all!
Repurchase: Definitely not.
MAC Pro Longwear Paint Pot | £16.00
If you haven't heard of these little pots from MAC then you must be living in a cave. Every YouTuber loves these pots as a base for your eye shadows. I got the shade Soft Ochre which is a yellow tone. The texture is quite creamy but i find it applies best using my fingers rather than a brush. It does take a little blending otherwise it can look a little messy but i have found it helps my shadows last longer and look more pigmented. 
Repurchase: Yes
Rimmel Lasting Finish Concealer | £5.49
If you know me then you know i love full coverage when it comes to foundations and concealers. I wasn't even aware Rimmel had released a new concealer until i saw alot of bloggers mention it. I only have one other cream based concealer which is from Seventeen which i love so i was intrigued to give this a try. I have tried using this under my eyes with my fingers and a brush but it is just far too heavy and creases like mad! I tend to only use this concealer when i have breakouts.
Repurchase: No as i have others which work better.
Nars Sheer Glow Foundation | £31.00
High end foundations are becoming my new obsession. I the girl who owns over 30 foundations! Nars Sheer Glow is a love or hate it product. I decided to give it a try after reading so many positive reviews. It is now definitely one of my most loved foundations. It creates medium buildable coverage, looks flawless and literally lasts all day on my oily skin. 
Repurchase: Yes! Yes and Yes!
Psst… Have you entered my 1000 follower Beauty & Stationary GIVEAWAY?
CLICK HERE to enter.
Bloglovin | Instagram | YouTube | Twitter