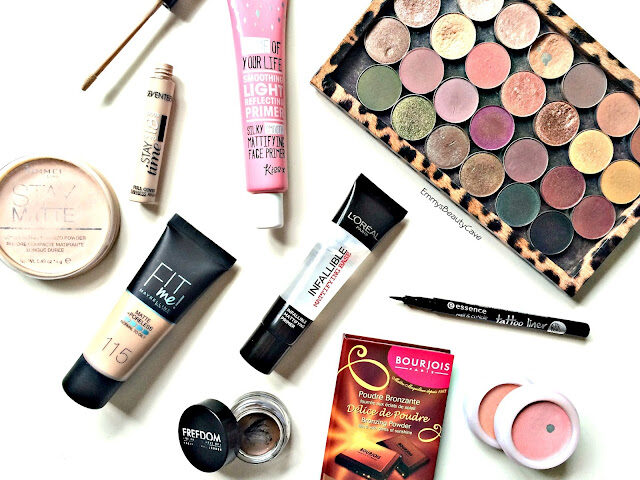 Don't get me wrong I am a girl that owns alot of high end products but nothing beats when you find a product that works better than high end products and save yourself a fortune! Most of my foundations are high end as I find they work better and are better quality but there are alot of drugstore gems out there!
L'Oreal Infallible Mattifying Primer | £7.99 | Link
I thought I would hate this primer as I hated the Smashbox one so I thought maybe it was the gel like consistency I hate but no I was wrong. This primer is incredible for us oily skin girls. It keeps my makeup matte for much longer. As most of you know I HATED and I mean hated the UK L'Oreal Infallible Foundation but I love the US version. You can read my comparison post between the two HERE
Kiss Light Reflecting Mattifying Primer | £3.00 | Link
This is probably my favourite product of the year so far. I picked it up in Wilkinson's on a whim but it is honestly the best primer I have ever used. I have never know a primer keep me matte all day, yes ALL DAY LONG. My full review is HERE
Maybelline Fit Me Matte + Poreless Foundation | £5.99 | Link
I have been using the US version of this for a while and then I noticed it had been released in the UK last month. I will be honest and say I do prefer the US version but the UK one is a good drugstore foundation. It is matte and has medium coverage. I prefer the US one as it has a much better shade range and applies a little more flawlessly. 
Seventeen Stay Time Concealer | £4.49 | Link
One of the most underrated products EVER! I have been using this concealer for a few years now I think. It is a full coverage concealer and has perfect shades for pale skin. I 100% prefer this over the NARS Concealer. 
Rimmel Stay Matte Powder | £3.99 | Link
I think this was one of the first drugstore powders I tried many years ago and here I am still using it so that should tell you something. It is a lightweight powder which adds a tiny bit of coverage. I like how this makes my skin look a little more flawless but it is amazing at keeping me matte. It comes in a variety of shades which I love.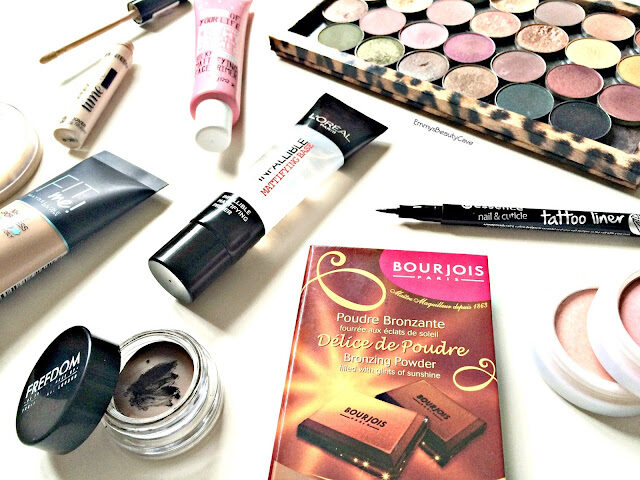 Bourjois Bronzing Powder | £7.99 | Link
I did try this when it was first released and I wasn't happy as the product dried up after only a week and I wasn't able to use it so I must of picked up a dud. I recently received this in a giveaway a few months ago and I have fallen in love with it. It doesn't show up orange, it blends well and it smells like chocolate!
Freedom Brow Pomade | £5.00 | Link
I have mentioned this on my blog a few times now and I can't stop raving about it. It is the complete dupe for the Anastasia Beverly Hills Dipbrow Pomade. I did own the ABH one and can confirm there is no difference apart from the £10 price difference!
Natural Collection Blushers | £1.99 | Link
The first blushers I ever purchased and im still buying them now. Peach Melba and Pink Cloud are the two shades I will keep re purchasing, they are such pretty blushers and so cheap.
Essence Nail & Cuticle Tattoo Liner | £2.00 | Link
When I picked this up I didn't realise it was a nail pen! I honestly thought it was a liquid liner pen so that's what I used it for and oh my it is INSANE! It is jet black and extremely pigmented applies on the skin well and lasts until I take my makeup off. I will continue using this as a liner for my eyes not my nails. I could never do winged liner until I tried this, it has a short black tip which makes it easy to create a wing. 
Makeup Geek Eye Shadows | £4.95 | Link
I must use these nearly everyday without fail. I have recently filled my Large Z Palette and I still want more. I find the shades are very pigmented when swatched and applied to the eyes. They are very creamy and the shade range is huge. Some do have fall out but you get that with most shadows. You can see my full collection with swatches HERE
Posts You Might Like:
Makeup Geek Palette + Swatches | Link
Kiss Light Reflecting Mattifying Primer | Link
L'Oreal Infallible Foundation US vs UK | Link

Follow Me