When going through my makeup collection recently I decided to have a big clear out. I wanted to throw away products I don't use or don't like anymore. When I buy products sometimes I love or hate them, then a few months later my opinion changes. These are five products I have really changed my mind on, some are good and some are just awful.
 I am also having a big sale over on my Depop selling new or swatched makeup cheaper than RRP.. Search by user: EmmysBeautyCave
So Why Have I Changed My Mind On These Five Products?
Bourjois Bronzing Powder | £7.99 | Link
I first tried this a few years ago when it was first released. I was so disappointed. I opened it and used it for around two weeks then noticed the product had gone a bit funny, it dried up and my brush would no longer pick up any product so I had to bin it. I recently thought lets give it another go and I am so glad I did. The one I bought a few years back must of been a dud one as I have had no problems with the most recent one. The colour is perfect to bronze my pale skin, it blends beautifully and smells insanely good!
NYX Lingerie Liquid Lipsticks | £6.50 | Link
When I saw YouTuber's raving about these I couldn't wait for them to come to the UK and even joined the waiting list so I could order some as soon as they were in stock. The shades are lovely, all different kinds of nudes. For me I hate them. At first I was like ok lets try and work with it but seriously they are too much effort! They dry far too matte, to the point your lips feel like clay! They sink into every fine line and just look awful. I found with the lighter nudes you had to apply a few layers they would look streaky. Overall I really dislike them, I even tried applying lip balms first but nothing has worked. If you even get the slightest of lips stay away from these! 
I much prefer the NYX Liquid Suede's or the Gerard Cosmetics Ultra Matte ones. 
L'Oreal Infallible Pro Matte Foundation (US Version) | $12.99 | Link
If you read my blog you will know I have mentioned a few times just how much I detest the UK version of this foundation. It didn't stop me getting oily nor did it apply well or have the fuller coverage it claims to have. I decided to order the US version (got mine off Ebay) and oh my oh my oh my it is perfect. The formula is slightly different, it applies flawlessly, has medium coverage without being heavy and keeps me matte all day. I tested this foundation and it kept me matte just over 8 hours before the smallest amount of shine came through.
Soap and Glory One Heck of a Blot Primer | £10.00 | Link
I purchased this as soon as it was released. I adore the Soap and Glory One Heck of a Blot Powder, it keeps me matte perfectly especially in the Summer months. This primer I loved the first few times I used it but after a few days I noticed it just stopped working on me. I found it made me more oily! It goes to show you need to test a product out for a few weeks to see how it really works on your skin. L'Oreal Infallible Fixing Mist | £7.99 | Link
When I first purchased this I hated it and I mean hated it. When you sprayed it onto your face you were left with white marks on your face and when you tried to pat them dry or remove them your makeup would become patchy and need redoing. It drove me insane so I gave up with it. When having my clear out I decided to give it another go and I am so glad I did. The trick is to make sure you shake this bad boy until your arm feels like it is going to fall off. Once shaken like mad you can spray away as normal and not have any white marks! This spray literally makes my makeup last all day and stops me getting oily. 
Are They Any Products You Have Changed Your Mind On?

Posts You Might Like:

Overrated/Over Hyped Beauty Products | Link
Top 10 Under £10 | Link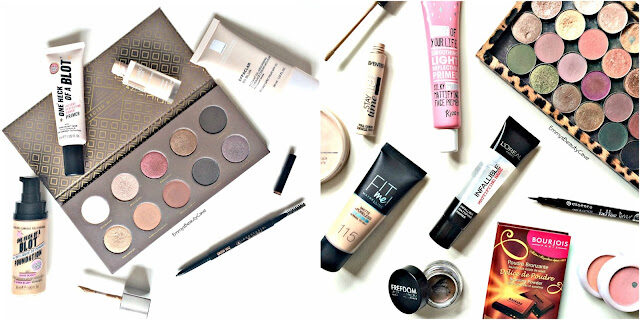 Follow Me