I love being nosey and seeing what people have in their bags, mine always start off with just a few items then end up full of wrappers and receipts! Lately our Summer hasn't been great but we have had the odd few days of lovely weather so I have needed a few essentials in my bag. I'll leave you to go have a nosey through my bag…
Makeup
I don't tend to carry much makeup around with me it is usually just a powder and a few lipsticks. Every Summer I will have the Soap and Glory One Heck of a Blot Powder in there without fail, it is perfect for touching up makeup during the day and it is especially amazing if you have oily skin. I currently have two lip products in my bag, the first is the Essence Long Lasting Lipstick in the Shade 07 Natural Beauty which is such a pretty pink and you can buy it from Wilko's. I also have the NYX Butter Gloss in the shade Fortune Cookie, I love these for when im in a rush and just need that hint of colour with the glossy look. I also love applying these on top of matte lipsticks. 
My Real Techniques Bold Metal Dupe Powder brush which I got in a set of 7 for under £10! I did a full review of the brush set HERE. Another life saver product is the Vitamin E Facial Mist from The Body Shop. It is perfect to spray on top of makeup in the heat as it instantly refreshes you and your makeup. It does not set makeup, it only refreshes it.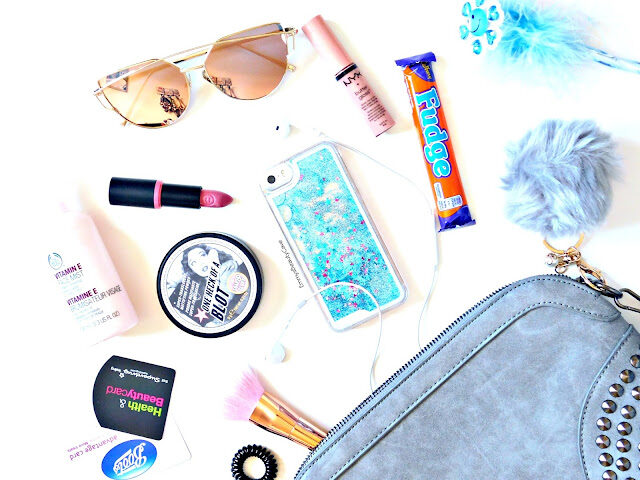 Essentials
Of course I couldn't leave my house without my phone! How pretty is this glitter case?! I got it off Ebay for around £3.. Bargain! I also love to keep a pair of headphones in my bag incase I ever get stuck somewhere. I have got sick of my purse as it is huge, so I have been keeping my cards in a zip compartment in my bag. My hair is an untamed mess, it is stupidly thick and long and sometimes I just need a hair bobble but you know us girls the amount of hair bobbles and grips we loose is ridiculous. I have been obsessed with Invisibobbles lately, If I pin my hair up I have noticed I never get headaches anymore from where it pulls and I find these don't leave kinks in my hair. I got a pack of three from Boots for under £5.
Since my major surgery I am in pain 24/7 and have to take alot of painkillers, so I always be sure to have a small chocolate bar or something sweet to have before I take them. Im not mobile and tend to get quite faint from pain quite often so a chocolate fix is needed and what is better than a fudge!
Being a blogger we always need a pen in our bags as we think of idea's at the most silly times and usually have nothing to write them down on. Lastly I have my Cat Eye Sunglasses in Gold & Pink am in total love with these and they were a total bargain at £ from Aliexpress. If you don't know Aliexpress is kind of like a Chinese Ebay, you don't pay shipping and items are cheap. I saw someone post some similar to these from Aliexpress so I popped over and got myself some. 
The Bag
I have been using this Grey Vintage Messenger Handbag non stop since I got it. This is also another Aliexpress bargain. It is this grey suede like material with the silver studs on the sides, silver hearts on the zip and has a long strap that can be shortened. It has a zip on the inside of the bag and also a compartment in the center of the bag. It only cost me £9!! Personally I would only buy accessories off Aliexpress, they do also sell makeup but 50% off it is copies of high end brands like MAC and NARS etc… I have started a series on the blog Real vs Fake where I compare them and also tell you how to spot a fake, the fake products were only purchased for the purpose of the post and not to use in any other way. 
The small grey pom pom on my bag is something I purchased extra from Ebay, it is so cute and just clips onto your bag like a keyring. This cost me about £1 and I got a couple of shades. 
What Is The One Thing You Always Have In Your Bag?
Posts You Might Like:
Real vs Fake (How To Spot The Fake) Kylie Cosmetics | Link
Real Techniques Bold Metals Dupe | Link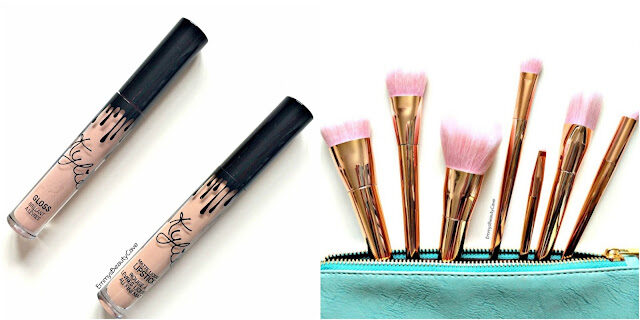 Follow Me