A while ago I filled my Large Z Palette full with Makeup Geek Eyeshadows and I still want to buy more! Makeup Geek have a wide range of shadows and different finishes which can make it hard knowing where to start. I thought I would share my top picks for your Makeup Geek Starter Kit. I have include different types of shadows that I think would work well and in a wide range of looks. 
Base & Transition Shades
Vanilla Bean | Matte | Perfect as a base shade. I always find applying a base shade helps the pigment of other shadows show up better. 
Purely Naked | Matte | As you can see I will need to buy another soon! It is a light brown that works magic as a transition shade. I use this in nearly every look.
Beaches & Cream | Matte | A peach toned shade that I usually apply as a transition shade before Purely Naked then those two shades blend beautifully together. 
Outer Corner & Crease Shades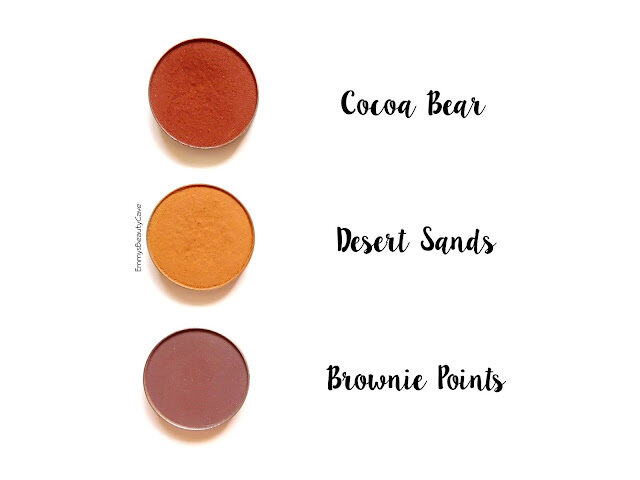 Cocoa Bear | Matte | This is a red toned brown quite like a brick kind of colour. I didn't think I would get much use of this at first as it looked so dark but I use it all the time. As it is a red tone brown it works with neutral looks or more glam bronze/gold eye looks. It looks gorgeous on the outer corner or to deepen up the crease.
Desert Sands | Matte | This shade looks scary and again I bought it then thought I wouldn't use it but I use this so much. It is a mustard colour but looks gorgeous on. I use this along with Purely Naked and Cocoa Bear in the crease. I also love using this shade when I do a khaki type eye look. 
Brownie Points | Matte | In the swatch this doesn't look as good as it is! For some reason this shade doesn't swatch as well as the other but when used with a brush it works perfectly. It is a deep purple toned brown that looks gorgeous with most eye looks! 
The Shimmers 
Homecoming | Shimmer | This shade is very much like MAC Woodwinked, it is a lovely shimmery brown. I love applying this all over the lid, it looks gorgeous with Purely Naked and Cocoa Bear or even Brownie Points. 
Cosmopolitan | Shimmer | One of my favourites. It is a peach toned shimmer with a hint of pink. It looks so pretty all over the lid without being in your face. I personally love this all over the lid with Mango Tango in the crease (see my swatch on Mango Tango in my Full Makeup Collection Post HERE)
Shimma Shimma | Shimmer | The name says it all! This is such a multi tasking shadow as it looks lovely all over the lid or I use it mainly on my brow bone as a highlight and the inner corners of my eyes. 
There you have it my Makeup Geek Starter Kit. If you want to see my full post on all my Makeup Geek Eye Shadows with Swatches including the Makeup Geek Duo Chromes, Foiled, Matte and Shimmers CLICK HERE
You can buy Makeup Geek from Beauty Bay in the UK or the Makeup Geek Official Website now ships internationally.