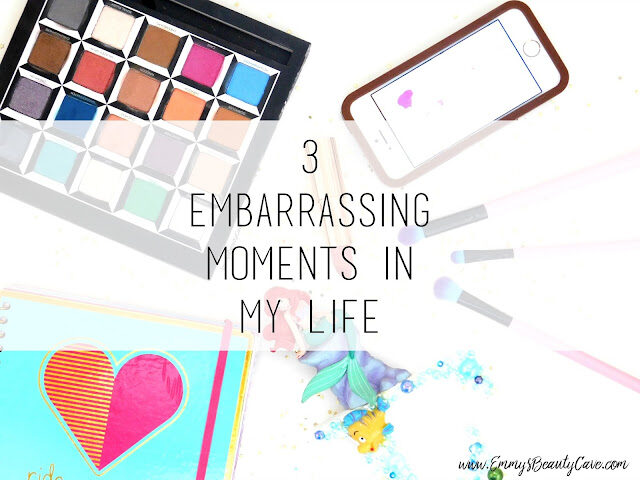 I have been blogging two and a half years now and I have only done two get to know me kinds of posts but I thought I would share with you some embarrassing moments in my life. I turned twenty five in January, half way to fifty, lets just say I don't like getting older. One thing I have learned as I've got older is to laugh at myself. When thinking back there are a few embarrassing moments that I always remember and my family love to remind me of too. 
1. My 18th Birthday – My actual birthday was good, I had a family party and then also a big night out with friends. The embarrassing moment wasn't at either parties it was the morning of my 18th birthday. We had traveled to Reading where most of my family live. That morning me, my mum and my older sister went to the garage as I wanted a cash point. I got out of the car and went over to the cash point. I came back and sat in the back of the car only to notice a Chinese woman sat next to me looking rather shocked and scared. I was like ok your not my sister… I quickly got out of the car and looked across the garage and found my mum and sister absolutely howling with laughter. I ran over to the car and they both said they watched me the whole time and watched me get into this other car! Not once did they think to shout me and say they had moved the car. I honestly couldn't believe it. Happy Birthday to me!
2. On Holiday – Me and my partner went on holiday to Spain around 4 years ago. We both loved water parks and of course we had to visit one. We went on one of those where you sit in the rubber ring, you each have your own then go down the slide and end up in the water at the bottom. I ended up under the water and came up walking through the water to get out the other side and my partner turned round in shock going Emma, Emma… I didn't have a clue until I looked down and saw my boob had come fully out!! The worst part was the queue for the slide was right there! Everyone saw… 
When we went back to the coach you could clearly tell some of the people had seen what had happened, all I could think was at least it was my good boob that popped out hahaha
3. Trafford Center – I am always shopping at the Trafford Center it is around a 40 minute drive from where we live. We had been shopping and I went to the toilet. We then carried on walking in shops then the next minute Ashley has dragged me by my arm. He noticed my dress was stuck in my tights at the back!! God knows how many people saw me walking around like this, I was mortified! Now I ALWAYS make sure to feel the back of me if im wearing a dress or skirt! 
Check out my 20 Facts About Me Post if you haven't already!
What Are Some of Your Embarrassing Moments?