I tried out some Neal and Wolf Hair Care products a while ago and fell in love. I have actually already repurchased the Neal and Wolf Super Shine Spray. They have recently launched a Home and Body Range which includes candles, body lotion and much more. Neal and Wolf is becoming one of my favourite brands. I love how the products are affordable yet they look such high quality.
I got sent two items from the new range and I have to say I am impressed. As always the packaging is pretty, elegant and looks high end. I adore the Neal and Wolf logo, I think it looks so unique. I got the Hand & Body Lotion 250ml and the Refresh Hand Wash 250ml. You can buy these individually or you can buy them as a set for a gift which I thought was a nice touch. They are £12.95 each or you can buy the pair for £19.50 saving yourself £6.40.
The scents are lovely, I find the hand wash has a slight stronger scent compared to the Hand & Body Lotion which I prefer as I don't like extremely strong scented lotions on my body or face.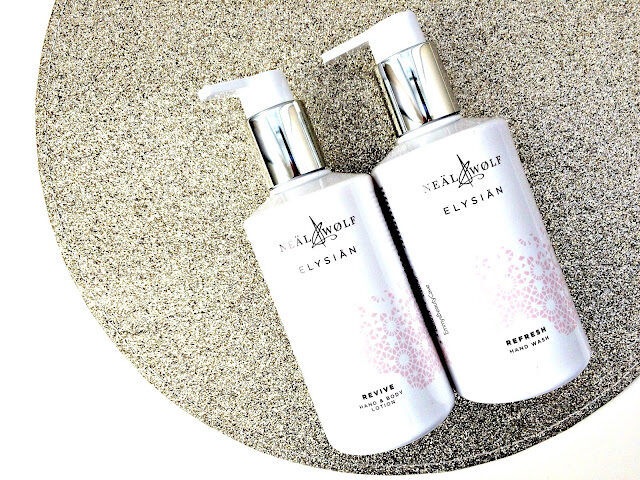 Neal and Wolf Hand & Body Lotion | £12.95 | Link
The Review Hand & Body lotion is described as a non greasy designed to nourish and hydrate the skin quickly. Ingredients include shea butter, red algae and infused with passion flower and borage oil. The lotion feels very light on the skin and rubs in easily. I find it doesn't have that sticky texture and it soaks into the skin quickly. I love using a body lotion in Winter as the cold weather really dries out my skin.
Neal and Wolf Refresh Hand Wash | £12.95 | Link
This is a foaming hand wash that cleanses and moisturises your hands. This also contains shea butter which is amazing for the skin. It also includes silk and milk proteins to deeply nourish your skin.
The scents make you feel like you are at a spa, this is what makes them stand out. The Elysian Range has been created to help you have that spa luxurious feeling whilst at home. Check out the Neal and Wolf Home & Body Range.
You can also read my review of four Neal and Wolf Hair Care Products HERE.
*This post includes PR Samples, NOTE all views are my own and my honest opinion. If I don't like a product or have any negative views I will put them on my blog.