This week I have decided to do something different and introduce my love for baking. Ever since I was little I remember baking with my mum and to this day I still use the same baking book which was my great grandmothers. I add my own touch to the recipes and today I am sharing one of my most requested cupcakes. Every time I bake I always have to make a few batches as my family and my boyfriends family absolutely love them. All photos above are my own cakes which i baked this week. So today I am introducing you to my…
Chocolate Cupcakes with a Peanut Butter Frosting with a Peanut Butter Cup! If you are not a fan of Peanut Butter then will also give you some alternative options.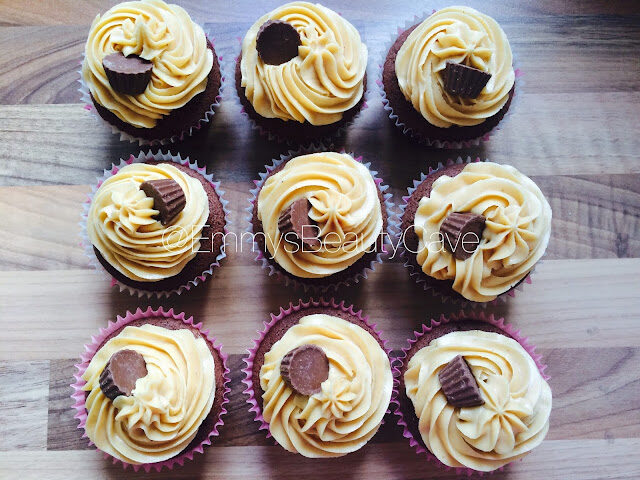 Cake Ingredients
6oz (175g) Self Raising Flour
6oz (175g) Caster Sugar
6oz (175g) Butter
3 Eggs
1 & half Tsp baking powder
1 Tbsp Milk
2 Tbsp Cocoa Powder
Peanut Butter Frosting
(6oz) 175g Butter
(7oz) 220g Icing Sugar
2 Tbsp Smooth Peanut Butter
Added Extra: Reese's Peanut Butter Cup or Chocolate Flakes
If you would prefer Chocolate Frosting replace the Peanut Butter with 2 Tbsp Cocoa Powder
Now Time To Bake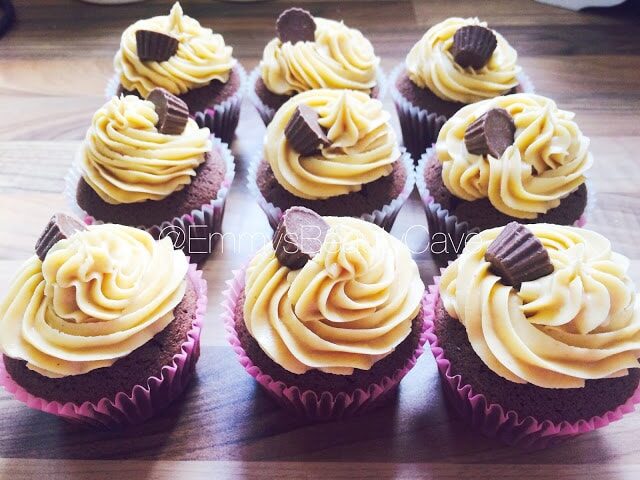 Mix all cake ingridients apart from Cocoa Powder together until smooth.
Add the Cocoa Powder and slowly fold into the mixture until mixture is fully chocolate coated.
For best cake results spoon mixture in using an ice cream scooper. I usually use muffin cases but you can use normal cupcake cases.
Mixture can fill between 12-18 cupcakes depending on case size.
Fill cases 3 quarters full.
Cook at Gas Mark 4 for 30 minutes. I turn the tray around half way through to ensure cakes are even coloured all over.
Whilst cakes are cooking mix the Icing Sugar and Butter together until smooth. Then add the Peanut Butter and mix well.
Once cakes are cool pipe the icing on using a nozzle of your choice.
For extra decoration add the Reese's Peanut Butter Cups or Chocolate Sprinkles/Flakes.
As I said these are my most requested cupcakes and they are super yummy! I am thinking of introducing baking posts as a more regular thing to my blog as I do bake on a weekly basis. I also have recipes for Marshmallow Cupcakes, Cookie Dough Cupcakes, Death by Chocolate & More!