When it comes to your bridal makeup, there is nothing more important than nailing the perfect look for your eyes. The right mascara or perfect strip lashes can make or break the rest of your look and it needs to withstand all those hours and tears throughout your big day.
False lashes are the perfect solution for troublesome mascara problems, you can browse a range of strip lashes here that are perfect for wedding days and provide high-quality, after all, you deserve nothing but the best on the day!
But, if you have chosen a vintage or historical theme, there's no use putting so much time, effort and money into everything else and your beautiful face to stand out for all the wrong reasons. As much as we love lash extensions and extravagant falsies, they may not match your theme.
No matter what era you may be theming your big day around, below is a helpful guide to follow so you can have that authentic bridal look, starting as far back as the 8th century BC all the way through to the '80s.
ANCIENT ROME
Ok, so having a full centurion wedding may not be the most popular choice for weddings but perhaps you have chosen a dress that resembles Venus or you are having a destination wedding in Italy so why not tailor your lashes to match?
The Ancient Romans believed that excessive sex caused lashes to fall out. Therefore, to 'prove' their chastity, women would coat their lashes on kohl and give them a curl so potential suitors would see them as pure.
Obviously this is complete nonsense, but if you want that ancient goddess look, get your lashes as dark as possible and go to town with those eyelash curlers. They would accentuate all their lashes so don't forget your lower lid.
VICTORIANS
So we've jumped ahead by quite a few centuries, but eyelash fashion took a step back for thousands of years and was taken over with lead makeup and extravagant hairstyles instead.
The Victorians were obsessed with lengthening their lashes, unfortunately, there was no such this as mascara of false eyelashes at this time. Women of the say would attend beauty salons to have human hair sewn through their eyelids to get fluttering fans.
The process of Victorian fake eyelashes was excruciating so women would leave the salon chair with just a small set of around 15-30 lashes in each eye.
We certainly don't recommend doing this, pain is beauty but this is going too far. But if you are rocking the corset and bustle on your wedding day, opt for a long pair of false eyelashes but avoid anything with too much volume.
Team with a nude lipstick and a touch of rouge blush and you'll be channelling your inner Queen Vicky in no time.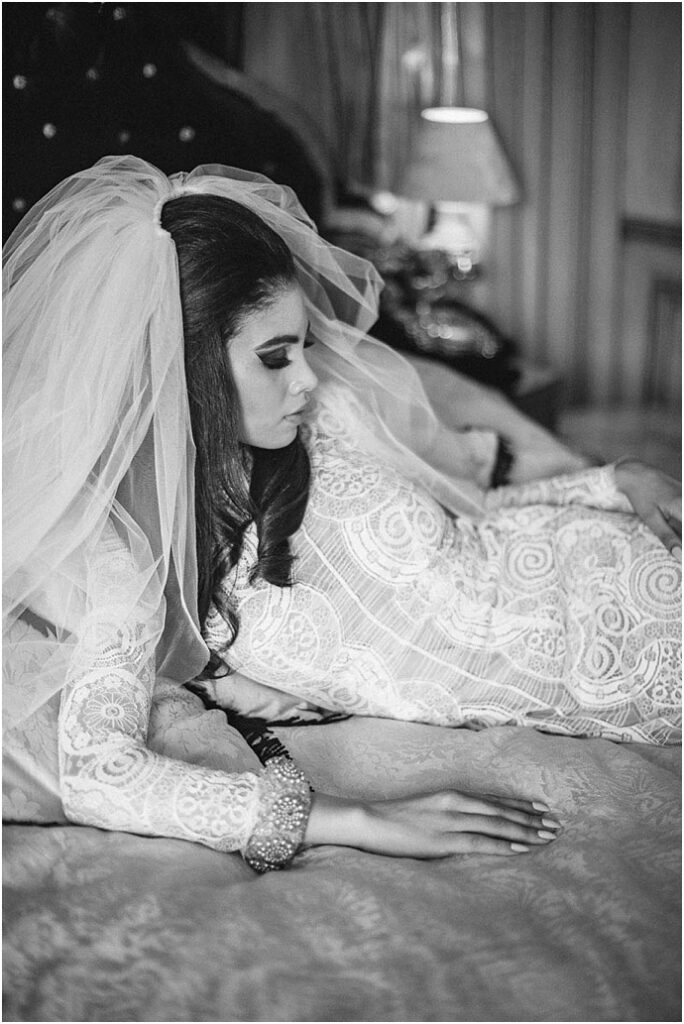 ROARING '20S
Great Gatsby weddings are always popular and we can see why, sparkling dresses, jazz music and plenty of cocktails, what more do you want for a good party?
If you are having an Art Deco wedding, you can really make that vintage style gown pop with the right makeup. This decade was all about heavy eye makeup and the introduction of false eyelashes and mascaras to the masses really helped to soar this trend.
Choose the largest, thickest fans when it comes to falsies. If you don't want to wear them, layer your mascara and make sure you have a good quality mascara wand to avoid clumping. Team with smokey eyes and a little bit of shimmer and you'll be ready for the charleston.
THE FABULOUS '50S
1950's is the perfect theme for any bride looking for a vintage wedding. The '50s dress silhouette suits every body shape and almost every bridal store will stock dresses in this style.
Tea-length dresses also suit all venues and destinations, great for the beach as you don't have to worry about sand everywhere and it's the ideal excuse to splash out on amazing shoes to show off to your guests.
This was the decade that introduced the cat-eye, a popular style even today. Perfecting the 'flick' of your eyeliner is the key here but it can be enhanced with the right pair of false eyelashes.
Choose a pair that had a gradual gradient towards the outer corner and focus on curling your natural lashes at this edge too.
If you are looking for a more subtle look, you can take inspiration from Audrey Hepburn and use mascara but make sure each individual lash is perfectly separated. Hepburn's makeup artist achieved this by pulling apart each lash with a pin, but a good eyelash brush should do the same and it is a lot safer if you don't have a steady hand.
Elvis & Priscilla Wedding Shoot for Rock n Roll Bride Magazine by Devlin Photos
SWINGING '60S
Think of '60s makeup and we are immediately drawn to the lash stylings of Twiggy. Attention to the lower lashes is what provides this iconic look.
For an understated '60s look, apply ample mascara to the lower lash but for a truly authentic look, you can purchase false eyelashes for your lower lid. These are shaped and styled differently to top lashes.
Finish the look with a defined line of eyeliner on the lower lash and you'll be rocking the flower power.
RETRO '80S
Colour, colour and more colour. That's what the '80s were all about. Neon blues, greens, pinks and oranges are iconic for the era.
You may have chosen not to wear a neon dress (we don't blame you) but you can finish your '80's styling with a colour mascara or false eyelashes- very Madonna!
If you want to avoid neon completely, there are mascaras on the market that provide a more subtle hue. These appear black in indoor lighting but when you go into the sun, your lashes will be hit with tints of blue or green.
If you can match this with your eye colour, it will really complement your natural beauty.
Whatever style you have chosen for your big day, it's important you feel comfortable with it, don't go for full authenticity if you won't feel like 'you' on the day. But with the above inspiration, you can mix and match with the true styles and your own personality.