So the perfect foundation – you've tried getting on for a hundred, and you've still not found it, am I right? It's undeniably the single most difficult makeup item to choose – get it wrong, and it does just about the complete of opposite of what we want it to do (ie. make our skin look better!) How many times have you thought it looked fine in the department store when someone else applied it on to you only to find it look nothing like that the next day when you were left to your own devices? And how many times did a quick swatch on the back of your hand under the fluorescent lighting of Boots mean the next day you realised you were about 7 shades out? Having spent many hours listening to the foundation woes of literally thousands of women both whilst I was a Makeup Counter gal and as a freelancer I thought I'd attempt to help you by offering you my thoughts on improving the foundation purchasing process.
Ok, so let's begin at the beginning ~
1. Establish and subsequently articulate what it is you actually want.
This is the part that involves a little thinking before you beginning shopping – deciding what it is you want. Yes, a foundation, but there are about 50 million of them out there, and every single one is different. The question I get asked the most is "What foundation is best?". I can't ever answer this, because it depends entirely on your personal preference. You'll need to know three things –
Coverage – Do you want light, medium or full? (And for those of you that don't know, coverage is how much a foundation will cover your skin – so a tinted moisturiser will offer a light coverage, because it's sheer and you'll still see your own skin through it. A full coverage foundation will be usually heavier but will cover skin entirely, leaving very little of your own skin on show) Do you like to see your own skin, freckles and all? Or cover absolutely everything up for a mega flawless look? Or something in between the two (medium coverage)?
Finish – Do you like Dewy or Matte? Something with a sheen or a flatter finish? If your skin is dry or dull you may prefer something a little dewier as matte has a tendency to show dry patches and larger pores a little more. If your skin is oily you might like to go for a more matte, oil free foundation to keep shine at bay, and to not add any more glow to your already glow prone skin!
Formula – Do you like a cream (thicker in texture), a fluid (runnier in texture) or a powder? A cream compact or cream in a bottle or tube? A pressed powder or a loose powder (loose foundation would usually be mineral based)?
I promise you, if you can walk up to your chosen makeup counter armed with these three pieces of information it will cut your foundation shopping time (and purchase errors) in half. If you walk up to a sales assistant and ask for a foundation without being able to answer any of these questions, you will walk away with what she suggests and not necessarily what you wanted – which may, as it turns out, be bang on the money, but which may not. If you are the kind of girl who enjoys trying the latest innovations and formulas and has no strong preference, and wardrobes your foundation in the same way you do your shoes. then fine – keep your full coverage formulas for winter, bad skin days or nights out, and your glowy foundations for holiday or similar, no problem. But if you just want one product, which you can rely on no matter what then make sure you know what you are in the market for. Being able to visit three counters to try a full coverage matte compact powder will give you a much simpler choice than standing amongst the masses of products feeling full of despair when you don't even know where to start!
2. Do a little research
The internet is a wealth of information now, teeming with reviews, vlogs and blogs from industry experts, makeup artists, bloggers and beauty editors who will all offer you opinions on products. I'd suggest maybe attempting a shortlist of a few products in order to again, narrow down the options and make life easier. When I begin to choose new products for my kit (and for myself) I tend to fold down pages in magazines, or take screengrabs on my phone of potentially interesting products which I can take a look at when I'm next shopping or google when I get a little more time.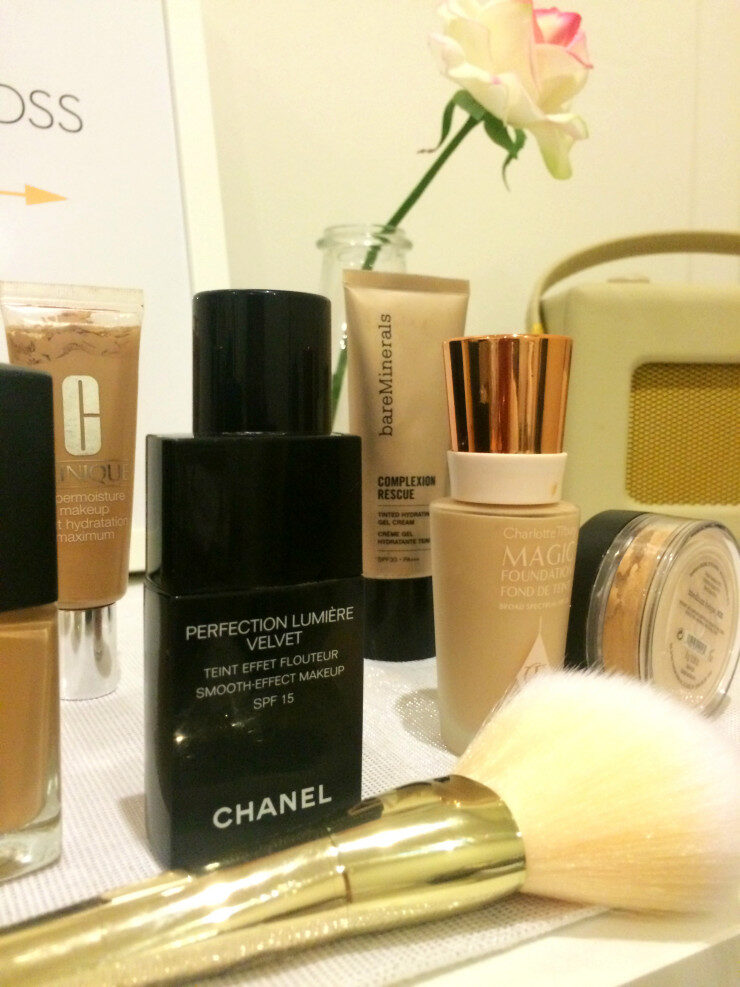 3. Try not to make impulse purchases
Now I know what it's like – once you've decided you need a foundation, you just want to get in, buy it and get out. However, I'd strongly suggest taking time and care over this to get it right. At most makeup counters you will be able to get a colour match at the least, to try on the foundation (if you can bear to sit makeup free in public – I know it fills some women with horror, although I promise you, no one else is really looking!) and often a sample to take home. Ask for advice with colour matching – when you stand on a counter for 35 plus hours a week you do get to the point where you can tell what colour someone is upon first seeing them (well, I could anyway!) but do check your match in daylight as well as synthetic light, and do wear it for a few hours to check it doesn't oxidise (become darker over time upon contact with oxygen). Remember too – foundation isn't there to add colour to the skin, it's just there to cover imperfections and even skin tone. It should be skin coloured – as in the most exact match you can get to your own skin tone. Blusher and bronzer add colour, not base, or expect tide mark central. Just saying.
And when it comes to samples – I promise makeup counter sales assistants don't really mind giving you a sample of something you are actually interested in buying – but yelling "got any samples of ANYTHING?" at them as you run past to the next counter is probably going to be received with a little less enthusiasm (and that happens All. The. Time.) Obviously these things aren't possible with a self selection product from a drugstore, so in this instance I'd say use a tester to pop a couple of stripes on your jawline then take a look in daylight to test colours. Again, check reviews, and ensure you check with your own skin type in mind.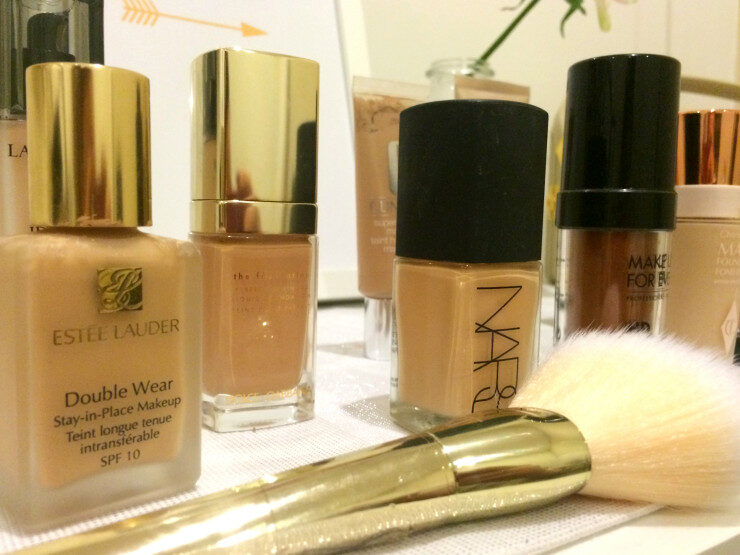 4. Know how to apply the product.
Ask the sales advisors recommendations on primers, finishing products and application techniques – these elements make all the difference to wear and longevity, and are probably the reason why it looks different when you do it to when you've had it applied for you. If you've been cleansed, primed, and then had foundation buffed onto your skin for 15 minutes with a great quality brush, then been dusted with a blush, bronzer and finishing powder, it's unlikely that three and half minutes of slapping foundation on with reckless abandon before you run out of the door to work the next morning is going to look the same! If you want mega quick and easy using only fingers that's fine, but don't expect Kim K levels of perfection in a heartbeat because it's not going to happen I'm afraid (unless there's something I don't know about!) and don't expect it to last impeccably through a 17 hour day – it's not a miracle I'm afraid! The more care in application – the better it will last.
5. Don't give up on a product after a week…..
That initial burst of enthusiasm, that new "I've found it and it looks amazing" feeling- well, it may not last. Often people find after 6 months to a year, they might be ready to try something new, feeling the once holy grail foundation just isn't cutting it anymore. By all means change if you wish, but remember we tend to lapse into bad habits after a while – when we first buy a new product, we apply primer, carefully apply a small amount using our brand new brush, we take time on our new routine, just as our new department store BFF has advised us. 3 months in and we are back to slapping it on with fingers and then wondering why it doesn't look the same. When you go to rebuy, go through a little application refresh if you like – make sure you are still putting it on in the way that is advised and you may find the love returns!
6. …But if you need to change, do
Remember you may very well need a summer colour and a winter colour – your tan won't last all year long (and if it does, what's your secret?) and you may find in a cold snap your skin becomes drier, needing maybe a more hydrating formula. If in doubt, ask for a colour match and chat about your needs again to see if what you have still best suits.
So there you have it, 7 years of foundation related knowledge condensed into one post, which I hope helps you. And to finish, because I know someone will ask, I wear the following (but clearly not all at once!) – Estee Lauder Double Wear, Charlotte Tilbury and Lancôme Teint Idole 24h Ultra for full coverage work days, skin disaster days and nights out, and Bare Minerals Original Foundation or Complexion Rescue for days off. I couldn't pick just one. So don't ask me to!
Emily x