MAC Foundations can be confusing as they now have so many, and sometimes people aren't sure which one is for them. I thought I would compare the MAC Pro Longwear Foundation against the MAC Studio Fix Foundation and compare the shades. I do adore both of these foundations but for very different reasons.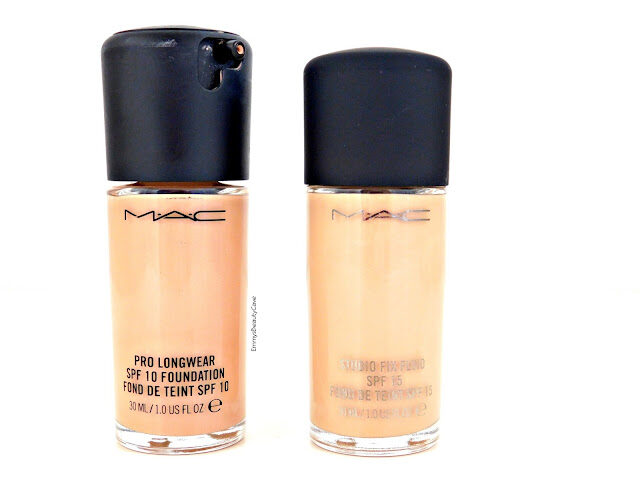 Packaging

MAC Pro Longwear | The bottle is glass-like most MAC Foundations, and the best part about this one is that it comes with a pump! You can twist the pump to lock and unlock it, which I like if you travel. 
MAC Studio Fix | Again this bottle is glass but doesn't come with a pump! I bought the pump for this one as it just makes life that little bit easier. You can buy the pump directly from MAC or get one off eBay or Amazon. I don't like that you can no longer use the original lid for the foundation once you put the pump on.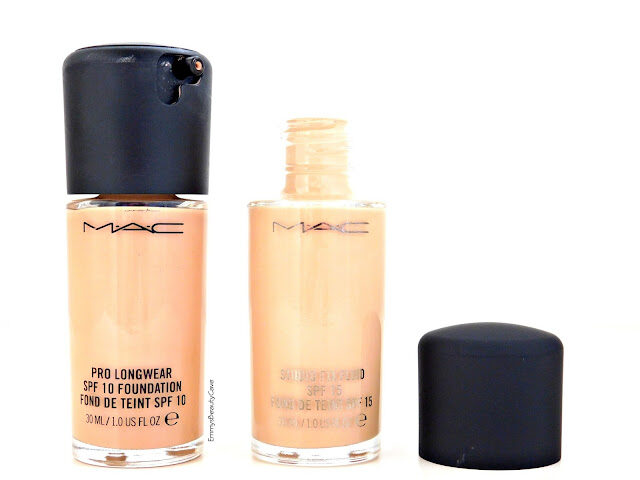 Consistency

MAC Pro Longwear | This is a liquid foundation with a light consistency. Even though it is a liquid foundation, it doesn't run down your face when applying it. It feels very light on the skin.
MAC Studio Fix | Again, a liquid foundation. Even though this one has a slightly thicker consistency than the Pro Longwear, this one is more watery/runny when you first pump it.  
Coverage
MAC Pro Longwear | The coverage is medium. I find when I apply this, it covers redness and blemishes. I have freckles across the top of my cheeks, which still show through with this foundation. On the days my skin is clear, this is perfect as it covers what I need to, but I still need concealer for my dark under-eye circles. I wouldn't say this foundation is buildable, just medium coverage. I use the MAC Studio Fix Powder Plus Foundation over the top to add extra coverage, which creates a gorgeous finish.
MAC Studio Fix | This is a full coverage foundation. Some people say this foundation is heavy, but I don't find this the case. It all comes down to what primer you use and how you apply the foundation. I find this best to apply with a damp sponge to get an even finish without being heavy or cakey.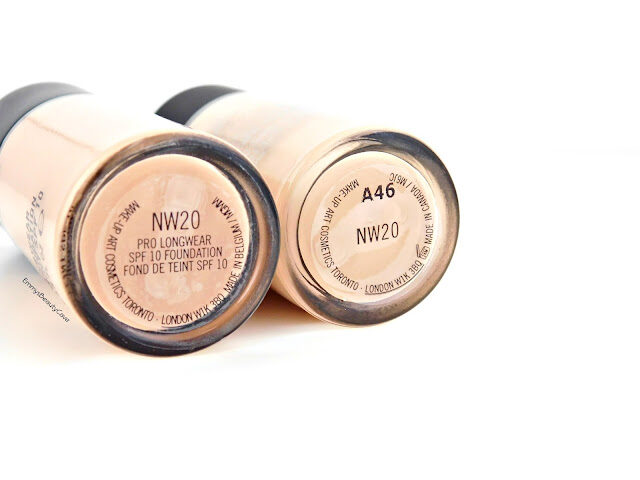 Lasting Power

MAC Pro Longwear | I have incredibly oily skin, hence picking this up. The lasting power is fantastic on my skin. I do find it can last better depending on which primers I use. So keep that in mind. A different primer can help the foundations longevity. I am incredibly oily on my chin and nose, and this does help keep the oil away.
MAC Studio Fix | I find even on my oily skin, this also lasts well. Because this is full coverage, I always make sure I moisturise well and use an excellent primer to help the product last longer.
How To Apply
MAC Pro Longwear | If you want medium coverage, I find this best to apply with a flat top kabuki brush. I use the Makeup Addiction Buffer Brush, which is terrific! If you use a damp sponge/beauty blender, it will sheer out the coverage.
MAC Studio Fix | This is a full coverage foundation. You can apply it with a brush or a sponge. I use this with a damp sponge, creating such a flawless finish. If you want slightly lighter coverage, you can apply this with a duo fibre brush, and I got a MAC Dupe off eBay for around £3; just search Duo Fibre Brush on eBay or Amazon.
Shade Range
I am a MAC NW20 in the Pro Longwear Foundation, but the NW20 in Studio Fix NW20 is not even close to the Pro Longwear. You would think NW20 in both foundations would be the same. It is strange how MAC Studio Fix Fluid comes up a lot darker, so definitely be sure to try and swatch this in store. Even though I get NW in the Studio Fix, I still find that it has a slight yellow tint, which is rather annoying. Below I have swatched the NW20 in both Pro Longwear and Studio Fix, and then I have also done swatches of the Pro Longwear NW20 against the Studio Fix NC20 to show how different the pink/yellow tones are. Figure if your skin is more yellow-toned or pink toned as it does matter in MAC Foundations.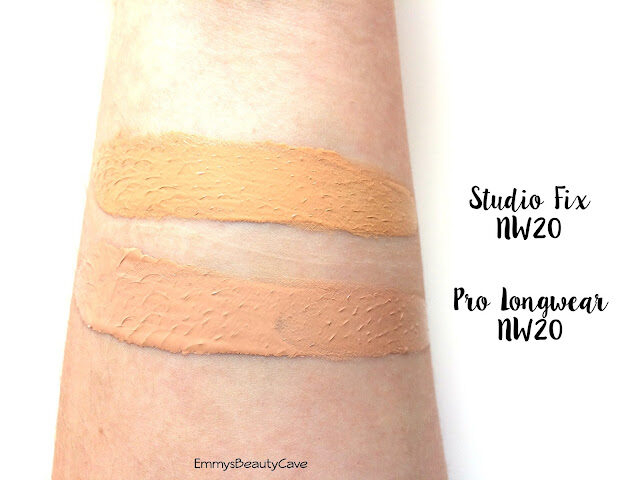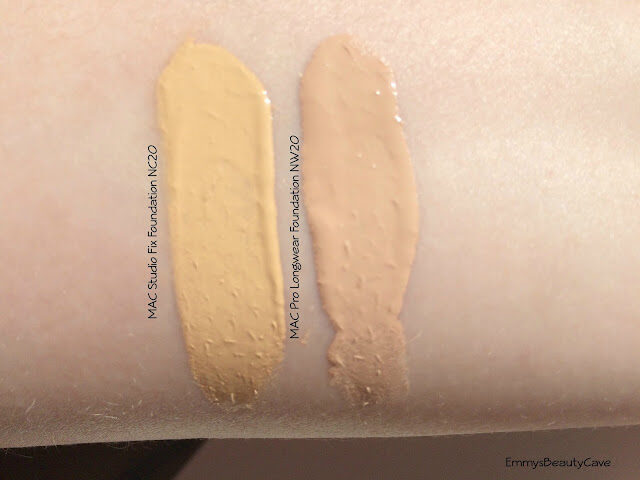 Overall, both foundations are perfect in different ways. For the days my skin is precise, I love the MAC Pro Longwear Foundation, and I can see myself still using it in winter. If I know, I'm going somewhere special or want fuller coverage, and I will go with the MAC Studio Fix Foundation. The Pro Longwear retails for £25, whereas the Studio Fix retails for £22.00.