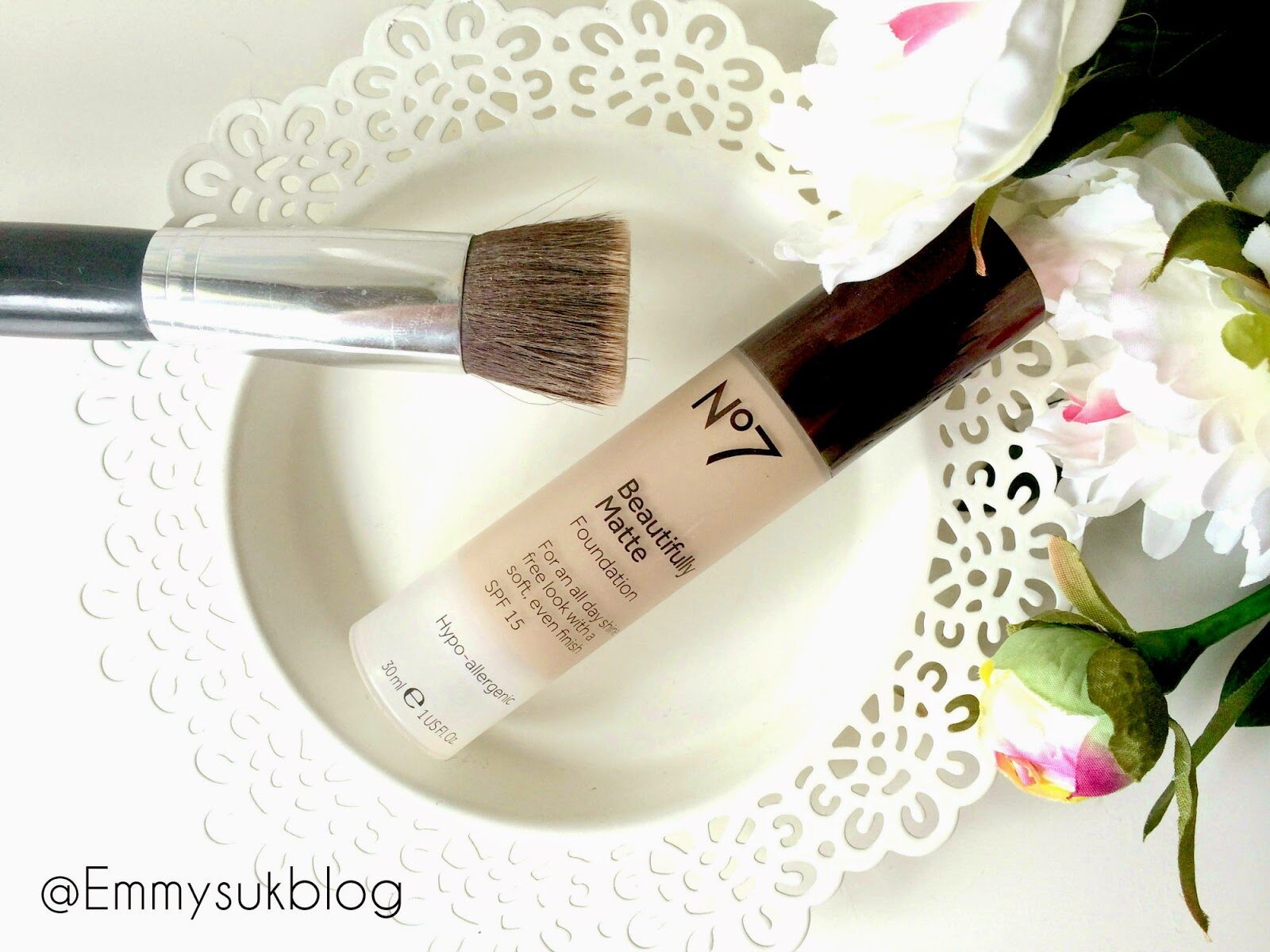 I recently went into boots and purchased the No7 Beautifully Matte Foundation in the shade Beige. I have never tried any base products from No7 so i was intrigued to see how it worked with my skin. The foundation claims Matte Finish, Medium-Full Coverage, Shine Free for 12 hours, Minimises Pores and also has SPF 15.
When i first applied this foundation i used my Real Techniques Sponge and i didn't like the finish at all. I tried it again the next day using my flat top brush (as above) and found i got the perfect flawless finish. On applying this foundation i would say it was medium coverage. I applied a little more over my chin and cheeks and found it built up easily to full coverage like i wanted. I let it set for around 5 minutes and then applied my powder on top.
After reading the claims of having shine free skin for 12 hours i didn't expect it to last at all. I have tried many foundations that claim to last but haven't lasted even 3 hours without touching up. I applied this at 8.30am and didn't check it again until 6pm and i have to say i was amazed. My oily skin is such a pain as i usally apply powder after 3-4 hours but with this i didn't feel the need to touch up all day! It really did last and i had no shine! My nose and chin are my worst area's which become really oily. At 6pm the only area i noticed the smallest amount of oil was the inner sides of my nose which i just blotted and it looked perfect again.
Overall this foundation has to be the best i have found yet. I am so shocked at how it kept me shine free. I did also try the L'Oreal Infallible Matte Foundation which i hated, yes hated! Click Here to read my full review. The price tag of this foundation is only £13.50. Any of you who have oily skin give this a go! The shade range is very good and easy to find a match. Also i have to say i love that you can see how much product you have left, it reminds me of Benefits Foundation.
FOLLOW ME
BLOGLOVIN | INSTAGRAM | TWITTER