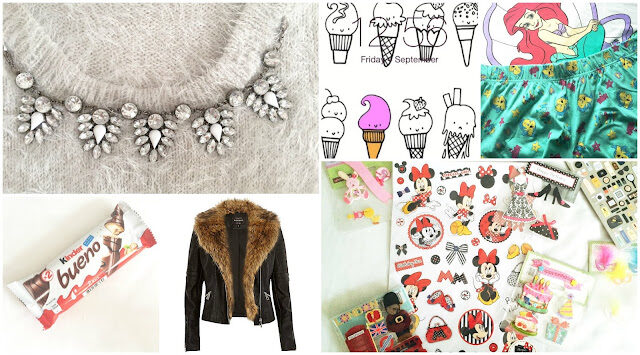 Another week has passed and its now September! Autumn is on its way and i am super excited. Autumn is my favourite time of the year and im ready to bring out the Tartan, Fur and Boots. So lets see what i have been up to this week!
Operation Update
It has now been 2 weeks since my big knee operation and i have to admit i am finding it harder than i thought i would. I am still bed bound and in alot of pain. Having my leg straight 24/7 and lying in the same position definitely takes its toll. I have to say i am feeling positive and looking forward to next year.
Shopping
I finally decided it was time to replace my Leather Jacket as it is a few years old and looking a little tatty. So i treated myself to a new Black Leather Look Faux Fur Biker Jacket from River Island. Im in love with it! It is a black leather jacket with a brown fur collar, the collar is detachable which i think is perfect depending on the weather. I also won this gorgeous grey furry jumper with the necklace attached on Ebay for £7 and it is brand new! how stunning is this necklace?!
Scrap Booking
As some of you know i decided to start my own scrapbook of photos from me as a baby up until now. This week i started it and i am loving being creative. I ordered some stickers and embellishments to help decorate the pages and they are just so cute! Most of the stickers/embellishments are from Hobby Craft and The Range. I also get alot of bits and pieces from Ebay.
Food
Lets just say i have eaten more Bueno's than i care to admit! I am obsessed with them at the moment. My chocolate spread on toast phase is still on going, i just can't seem to get enough!
Random
Above you can see a picture of some Ice Creams which is now my Iphone's Lock Screen! How cute is it! I actually found it on Pinterest and thought it would make the cutest background.
TV
This week i have been obsessed with watching Say Yes To The Dress which is basically a show where women go to try on and find their wedding dresses. Some of the dresses are just gorgeous. I am also obsessed with Celebrity Big Brother, this is the first season i find interesting as there are so big characters.
Disney Primark & Haul Topshop Haul
What's Been In My Makeup Bag July & August
Bloglovin | Instagram | YouTube | Twitter