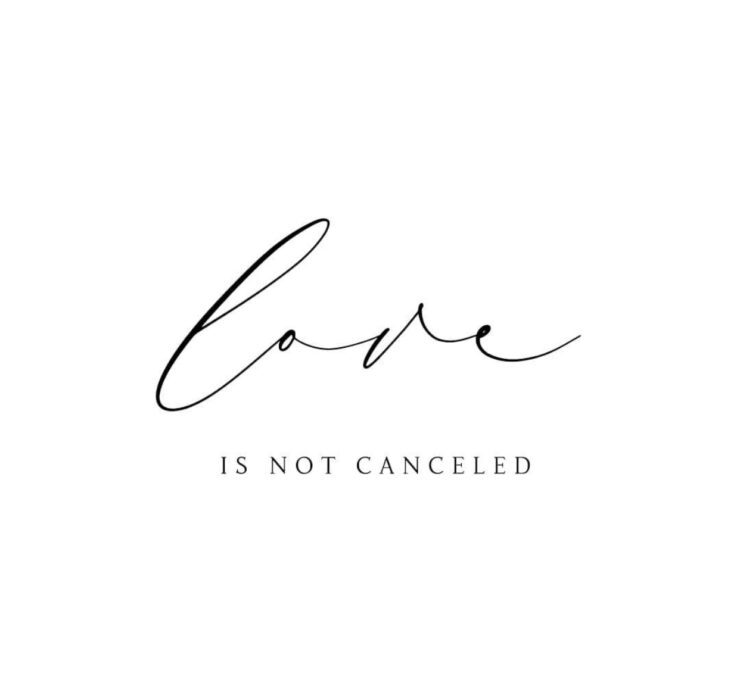 Image | @soapbubblewedding
It's the last thing that any of us want to consider while planning our wedding. Still, unfortunately, all sorts of unforeseeable events can crop up (*cough* global pandemic *cough*) and cause weddings to be postponed, or worse, cancelled. I know that thousands of couples worldwide are dealing with this right now, including myself and my partner, so we thought that we would put together a list of our top tips for couples to prevent them from getting into difficulty.
Image | @chelseawarrenphotography
Insurance, insurance, insurance!
This could be all five items on this list, but the first tip is: to get wedding insurance. This will be achingly obvious to some and a surprise to others, but this is the best possible way to protect yourself financially in the event of a cancelled or postponed wedding. Regardless of the scale or budget of your wedding, the relatively small cost of wedding insurance (we paid £150 for our John Lewis insurance) is worth it to make sure that you are covered if the worst happens. There are a variety of providers that offer cover. There is a range of 'levels' of coverage, based on the budget of your wedding, so that you should be able to find a balance between cost and comprehensive coverage. However, it is not just cancellation that is mitigated by insurance; many policies will cover you if any part of your day is hampered – a supplier gets stuck in traffic and can't make it, for example – but this does vary between providers.
 We were fortunate that our venue allowed us to re-arrange. Our suppliers were either available on our new date or refunded us, but knowing that we had insurance kept our stress at relatively tolerable levels while organising everything. Facing up to the financial reality of having to cancel parts of your wedding potentially is a sobering experience, and this leads us nicely onto Tip number two… 
Read the small print!
Yes, we all know we should do this every time we buy something, sign a contract, agree to something online, etc. However, when you're dealing with a seemingly endless list of suppliers, venues and caterers and paying out hundreds, if not thousands, of pounds to each, you must know what you agree to when you sign on the dotted line. I can say from experience that there are things in contracts that seem perfectly ordinary but then take you by surprise when you're postponing a wedding, non-refundable deposits, for example. Don't get me wrong; non-refundable deposits are not necessarily a red flag, but you should be aware of exactly how much money you are committing without the possibility of a refund. Let's be honest, and this is good advice even if you don't have to cancel your big day!  
Image | @abbyrosephoto
Flowers | @chapeldesigners
Get emotional support where you can, but be careful
Needless to say, the experience of having to postpone our wedding was not one I would volunteer to go through again. All of the plans and dreams we had made since August 2018 disintegrated before our very eyes, along with all of our built-up anticipation and excitement and that of our guests. Our intended date was April 4th 2020, the 10th anniversary of our relationship, and so had added significance that cannot be said for our new date. Emotionally, this was a challenging time, and I relied heavily upon the support and sympathy of Fraser and our friends and family. Although it didn't make it better, every message we received wishing us the best made a difference in carrying us through the experience and every little bit of help! 
However, before actually deciding to postpone, I was also scouring various social media groups and forums for brides who were similarly affected by a coronavirus. Initially, this was to look for advice, see what other brides were doing, and seek some small reassurance from the experience of others. However, as the situation worsened and more weddings were being cancelled, I was reading about the virus on the news, elsewhere on social media and in the groups. It just made me more anxious and upset. I was swinging back and forth between confidence that the wedding would go ahead and abject misery that we would have to cancel it, and eventually, Fraser took my phone and removed me from all the groups. I can't say this completely changed my mood and that I wasn't stressed anymore, but it helped.  
This is obviously a very situation-specific example of what we went through. Still, I'm sure that other couples are experiencing this right now, and I would warn against immersing yourself in the hype and misinformation surrounding the virus. Stay positive as hard as this might seem, which brings me to point number 4… 
Image | @christyljohnston
Think of the positives
I know that this might be really difficult to comprehend and you might feel like there are none when you've just had to postpone the most important day of your life but trust me there are positives! When your day eventually does roll around, you can relax into the day you have been planning for so long and rest assured that the entire day won't be filled with conversations about the dreaded 'C' word! You've even got a bit more time to save money and therefore hire that videographer you've always wanted or splurge on some extra flowers.
Don't panic
I am well aware that this might not seem helpful, and it might not feel possible for some of you! Fraser assures me that at my darkest hour, I said, 'I may never be happy again, so I'm no stranger to a nice bit of panic and despair! However, especially in our situation, the best thing we could do was to keep as calm as possible and get things sorted as quickly and efficiently as we could. By keeping ourselves busy contacting our venue, suppliers and all other relevant parties, we mostly kept our minds off the horrible situation. We could get the entire wedding re-arranged within a week of confirming the postponement with the venue. There will be a strong temptation to collapse and wallow in the sheer injustice of the situation, but put on your 'organised Bride' hat and push on through; I promise the feeling of getting your wedding back on track will feel incredibly rewarding.  
Image | @caitlinrosephoto
Please do comment below or pop us a DM  if you have any questions or worries – that is what we are here for. Plus, I am completely sympathetic, having gone through this entire ordeal myself. 
Be safe, stay at home, and then we can all get back to getting married as we had initially planned! 
Emily xx