FIRST HOLIDAY WITH KIDS – CORFU
Hi everyone,
So we are home just over a week now since our very first holiday as a family with out little man. For those of you who don't follow me on social media, our son will be two years old in December and this was our first time taking him on a flight or holiday. Its safe to say, I was a nervous wreck (I'm a worrier at the best of times!) before we went, but as usual, it was all for nothing. In a nutshell, we had an absolute ball and everything couldn't have gone smoother. I had so many questions about so many different aspects of the holiday, where we went, who we flew with, how suitable the hotel was for children etc. so I thought I would cover it all here. If I miss anything please just get in touch on social media and I will be sure to try and answer your questions. I am now expert in travelling with children but I'll try my best.
Where to –
I was thrilled when the opportunity arose to collaborate with Falcon Holidays for our first family holiday. Travelling with a toddler was so new to me, so having a travel agent to liaise with made everything run that bit smoother. We chose to travel to the Greek Island of Corfu. Neither myself or Paul had been there before, but I had been to other parts of Greece before and loved it. We chose the Family Life Kerkyra Golf Hotel for our trip. It seemed to have everything we were looking for – sea views, swimming pools, child friendly, short distance from the airport etc. We chose to go all inclusive as we wanted somewhere that we could really just unwind and relax, and not have to be heading far from the hotel for dinner each night like we used to do before baby arrived. I also had to factor in that both Harry and Paul have HUGE appetites so all inclusive seemed the way to go. We flew directly from Dublin airport to Corfu airport. The flight time was suggested as 4 hours but it actually only ended up being about 3 hours 35 minutes long which as ideal when it was babys' first flight. I had brought lots of distractions for the flight like colouring books, stickers, his favourite toys and of course…snacks!! He did really well and even took a little nap in Paul's arms too which was great. Once we landed, we were greeted by a Falcon Holiday representative who took us to our awaiting taxi transfer. The hotel was only about a fifteen minute drive from the airport.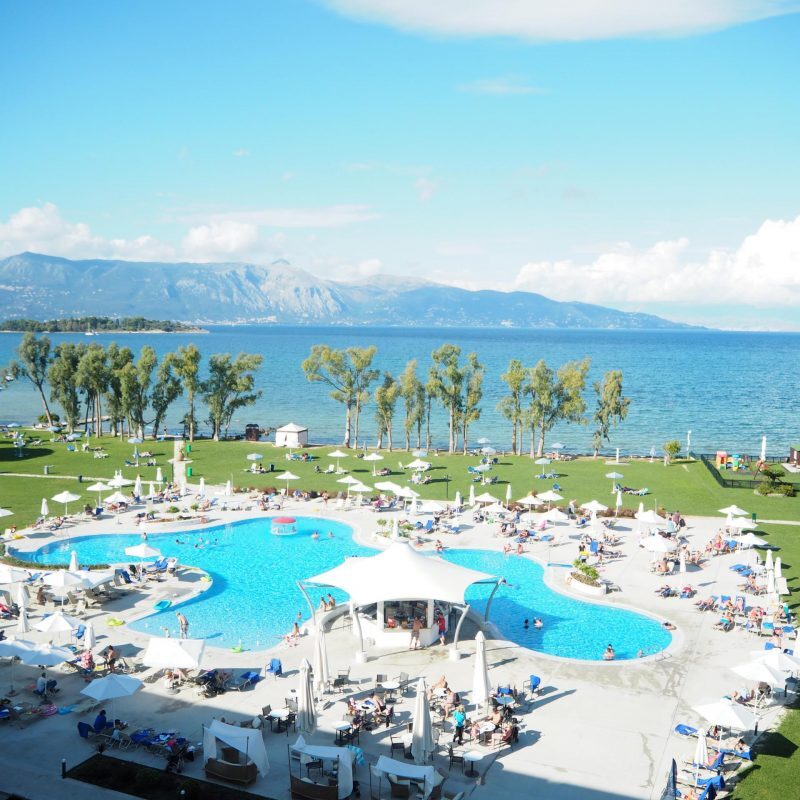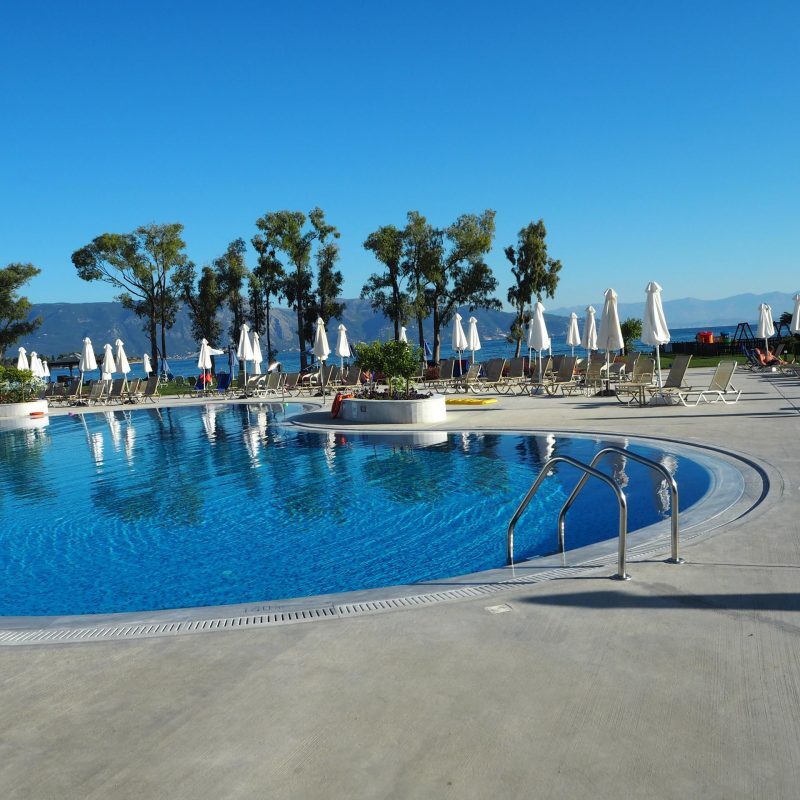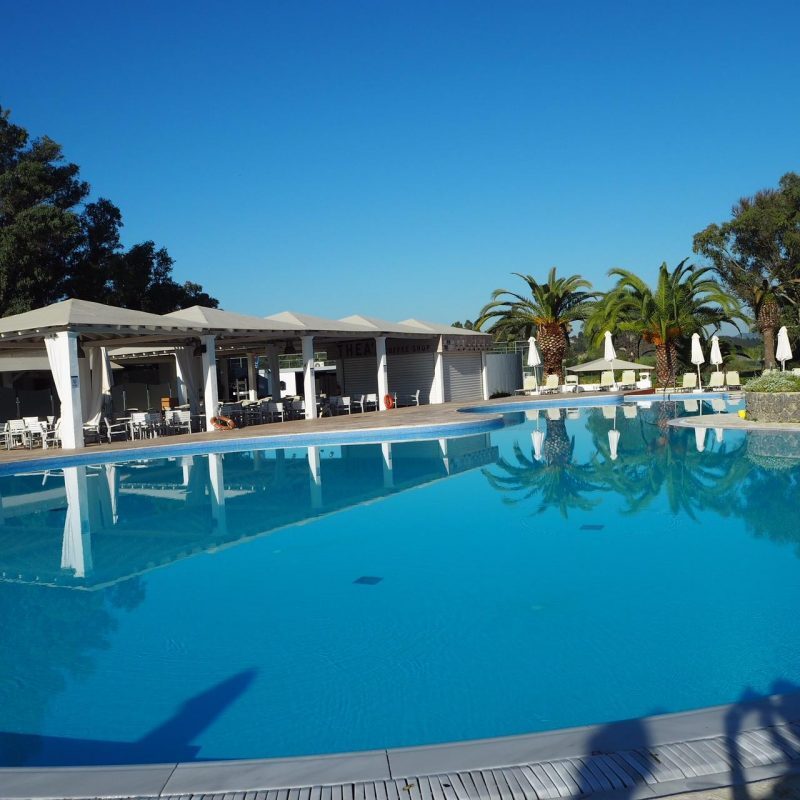 The Resort –
When we arrived at the resort we were greeted with refreshments and snacks, as well as some hot towels to freshen up while we checked in to our room. We were brought straight up to our 3rd floor family room which was already nice and cool. The room was ideal. Spacious, spotless clean and with a dividing sliding door for Baby's cot so we could close it off for his naps and bedtime (although, he ended up sleeping in our bed most nights… we were enjoying the baby cuddles too much!) The room had a balcony with beautiful garden views. The first thing I checked was how safe the balcony was for toddlers. It was perfect but as you can imagine, we did not let him out there unless one of us was with him and holding him (over protective Mom kicking in!)
The Resort itself had two large pools, one of which was adult only, pool bars, huge gardens, its own private beach and of course the restaurants and bar area. They then had a children's area which had its own kids pool, playground, baby room and soft play room with air conditioning. The baby room had everything from a cot, highchair, fridges, microwaves, bottle warmers and changing table. The soft play area was an absolute lifesaver. Baby spent so many hours each day playing here with the other children. It had the usual soft play toys etc, jigsaws, colouring tables, lego…basically everything the kids could want. There was also an amazing girl who worked their full time with the kids. I cannot praise her enough. She never took her eyes off the kids and knew each child by name from the minute they arrived. She thought them songs and played with them for hours. She also advised me what to do when Baby started to develop a heat rash. Definitely one of those people that you never forget… Baby loved her. There was also an amphitheatre there and children's entertainment was held in it each night by the holiday reps. Once the kids entertainment was over there was something for the adults too.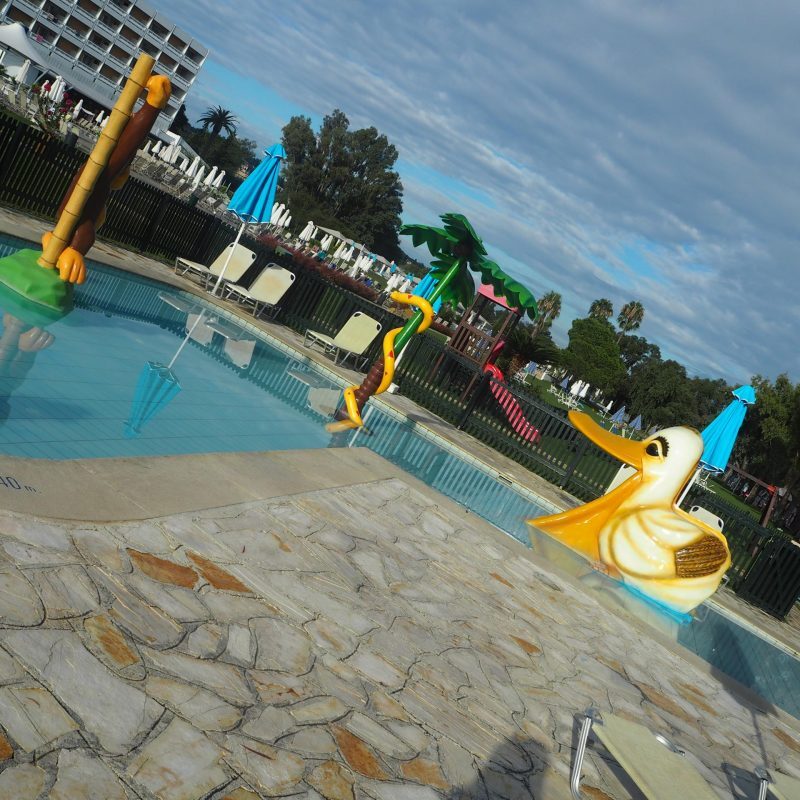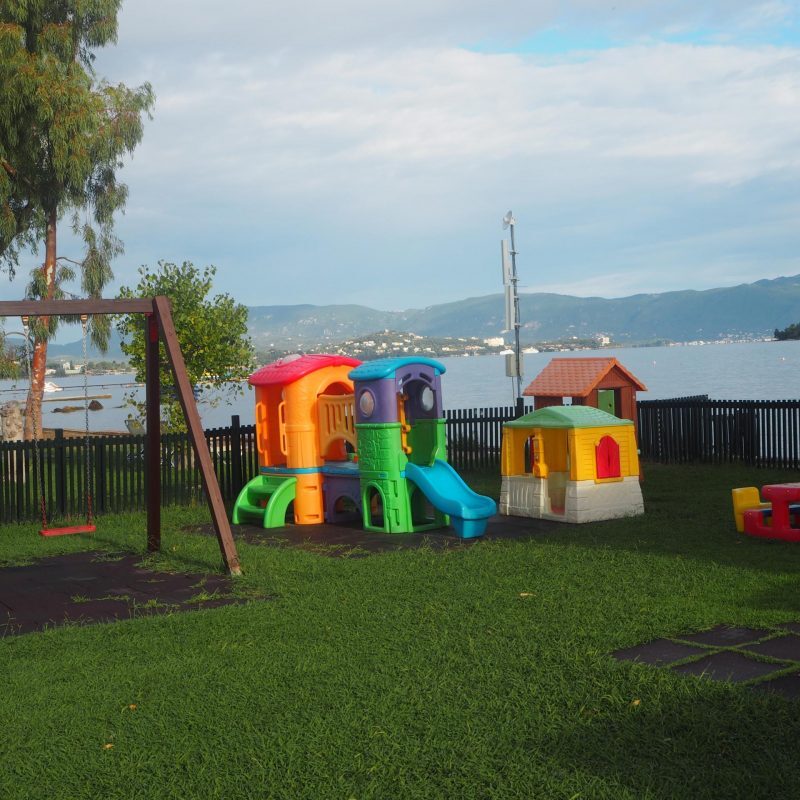 The Food & Drink –
As I mentioned, it was all inclusive so there was the main restaurant which served your breakfast, lunch and dinner. There was different food each day and an absolutely HUGE selection of food to suit everyone. Whether you wanted to stick to a healthy diet or go all out and indulge, there was something new for you each day. The food was so tasty (I had the amazing pancakes EVERY morning!!) and the restaurant was always so clean and organised. There was also an Asian restaurant that opened three nights of the week and if you are planning a trip here, I advise you to book it for all three nights like we did. The asian food was exceptional.. particularly the Bento box! All of our drinks including alcohol were included in our stay, and the hotel made incredible cocktails (mojitos being our fave of the holiday)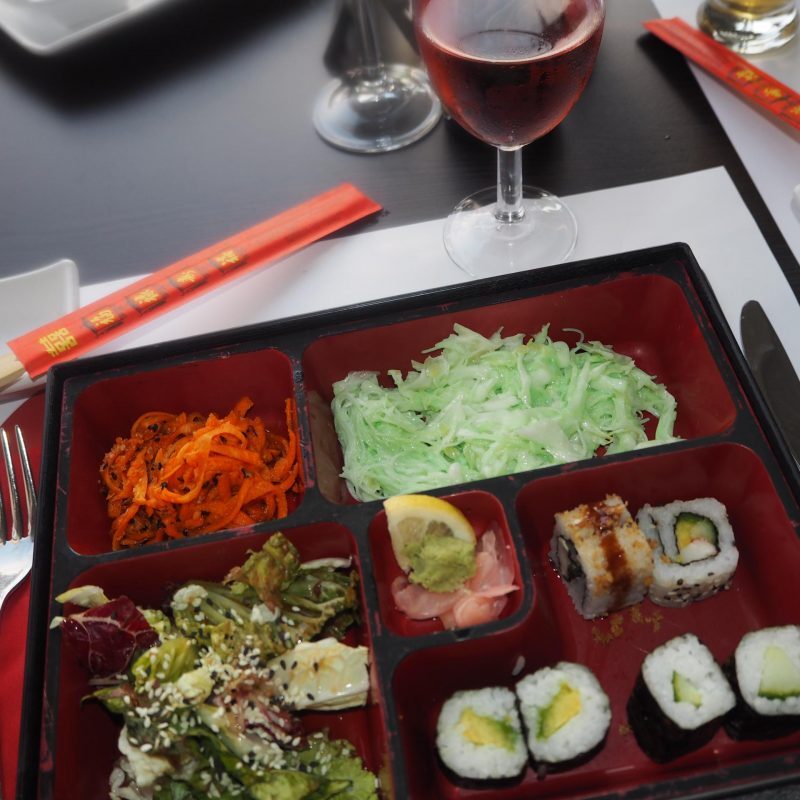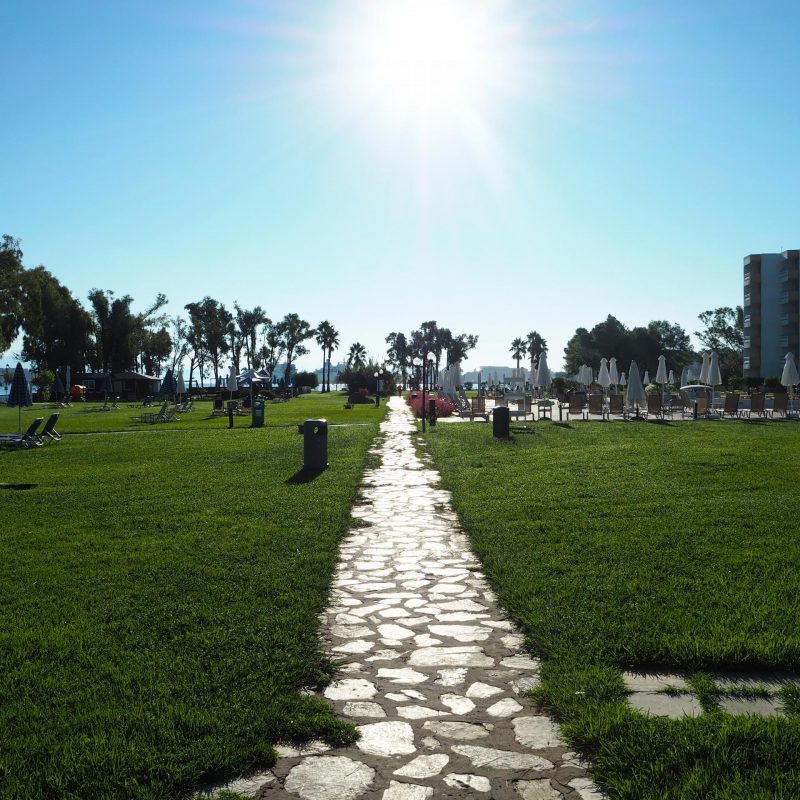 Corfu –
So as you can imagine, the plan for the holiday was to just relax and chill. We planned on staying at the hotel most days to unwind but two of the days we decided to venture into Corfu Town which was only a ten minute taxi ride from the hotel, costing €10. If we were holidaying without Baby we would have done a lot more exploring but we were conscious of having Harry out in the daytime sun for too long. We wandered through the beautiful old streets of Corfu and had lunch and AMAZING gelato at a beautiful little shop that had some of the most stunning cakes I've ever seen. Corfu Town is steeped in history and we would have loved to visit the Old Castle which looked so incredible, but it didn't seem suitable for our buggy. If its sightseeing you're looking for then you won't be disappointed.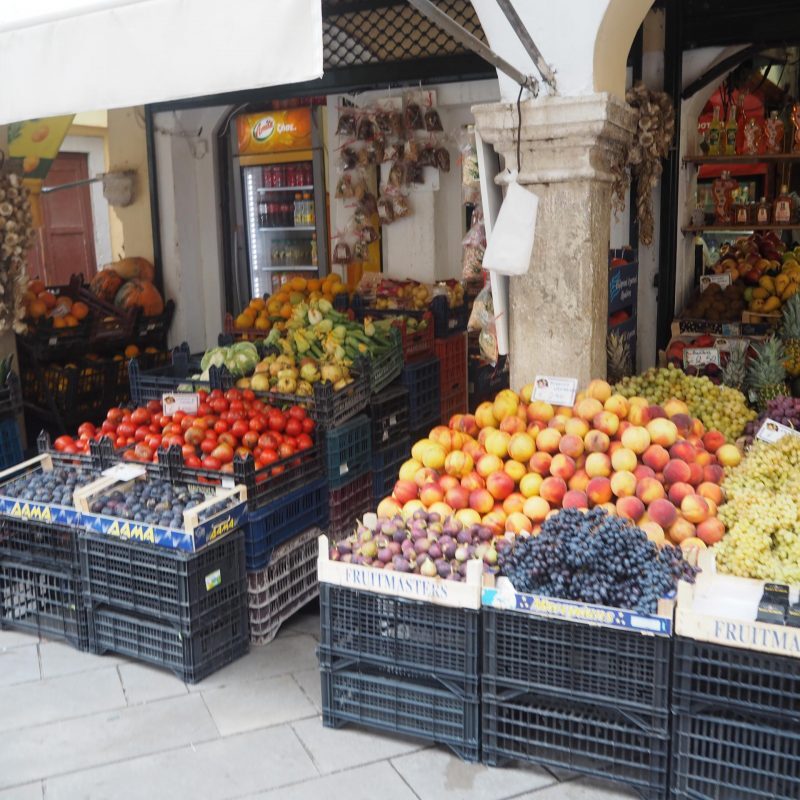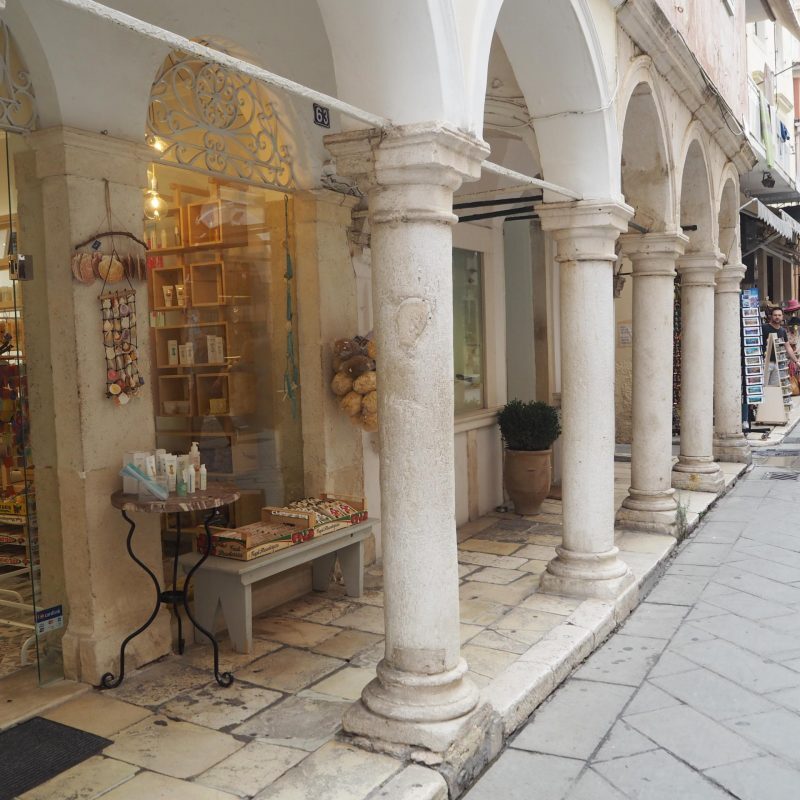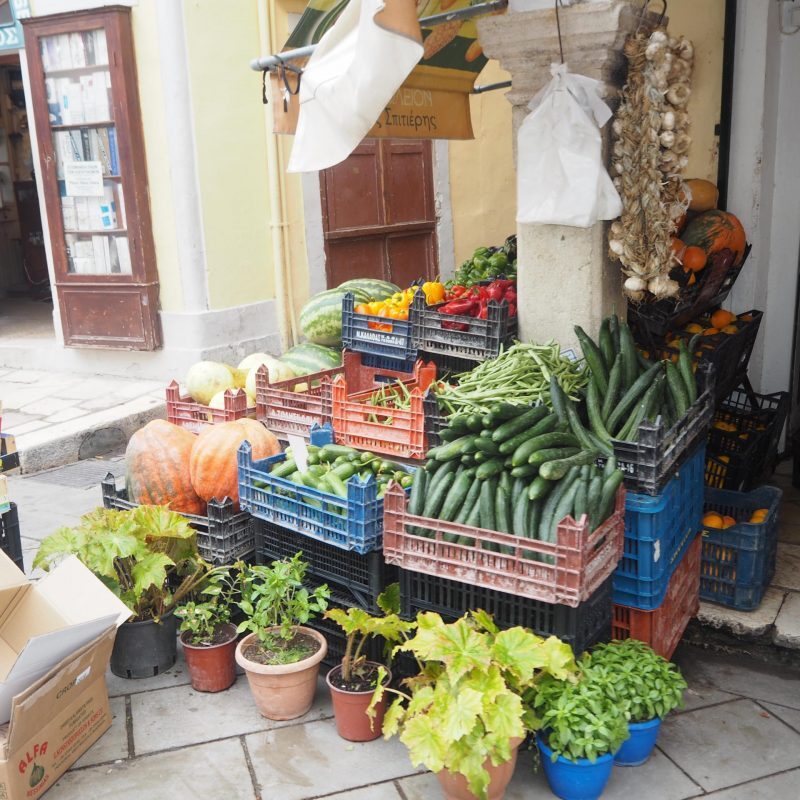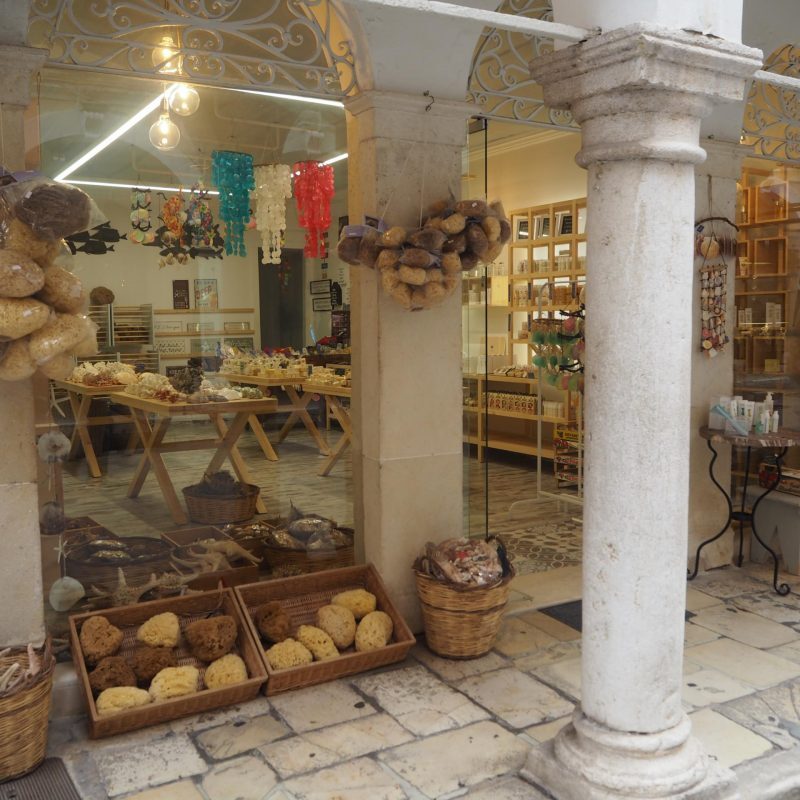 So I think that is just about everything covered. I can't thank the Manager at the Family Life Kerkyra enough for doing everything in his power to make sure we had the best family holiday. And that wasn't just for us… he was in the hotel every single day we were there, greeting everyone at breakfast, asking how their holiday was, getting to know all of the guests etc. In fact, I have never been to any hotel where the staff were as friendly as they were here. Every member of staff from the front of house, to the reps, to the house keeping staff where incredibly upbeat and friendly. And another point to make is regarding the cleanliness of the hotel and grounds. It was SPOTLESS every single day. Our rooms were cleaned everyday with fresh sheets and towels.
The only things I would point out before travelling to Corfu would be to bring some insect repellent as the mosquitos ate us alive and we weren't prepared with any sprays etc. Also, we had some rain and thunder storms during our stay but they were very short lived and the sun came out moments later. The temperature was averaging at about 24 degrees most days which as ideal when traveling with a baby.
I hope I have answered all of your enquires about our holiday, but if I have left anything out please get in touch with me on your preferred social media platform and I would be delighted to answer any questions.
A huge thank you to Falcon Holidays for making a holiday that I was so anxious about run so smoothly and for helping us to make the most amazing memories for both myself and Paul, and of course for Baby on his first family vacation. For more information on all of the amazing destinations that Falcon fly to please visit www.FalconHolidays.ie
Until our next vacay….
Emmy x