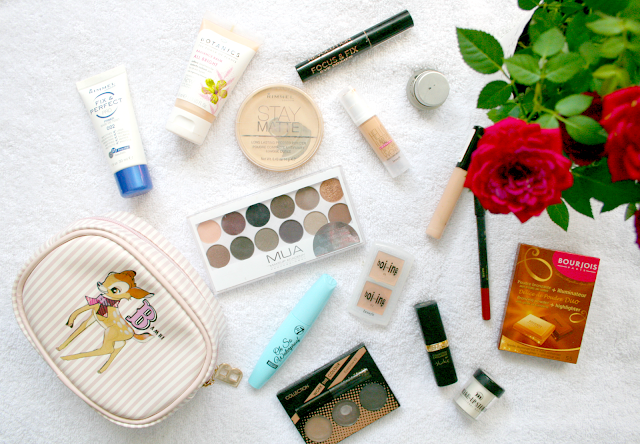 Since the weather is starting to change so is my makeup, but before Summer is totally gone I thought I'd show you what products were in my makeup bag throughout July and August.
For base products I kept two in my bag as it'd depend on the weather if I wanted a glowy/dewy look or just a simple plain matte face. For days where I just didn't want a glow I used the Rimmel Fix & Perfect Primer while days I wanted a nice healthy glow to my skin I used my beloved Botanics Radiance Balm.
For Foundation instead of my beloved Rimmel Match Perfection as I'm trying to use some products to get rid of them, the Benefit Hello Flawless Foundation was the one I was using. This little size came in the Light kit of How To Look The Best At Everything and I can't get away with wearing it unless I fake tan as it's still way too dark for me.
Concealer wise as always the Collection Lasting Perfection Concealer in shade #2 and the Benefit Boi~ing Concealer in #01 and #02 which I'm just again like the foundation trying to use up.
As always for when I need powder I used the Rimmel Stay Matte Powder which I've recently smashed by accident and so it's a tad bit messy now so I'll more than likely replace it very soon.
To prime my eyes I was using the Focus & Fix Eye Primer by Makeup Revolution. It's ok and does the job but it's almost gone and I doubt I will repurchase it.
For eyes I was obsessed with the MUA Romantic Efflorescence Palette as I just adore the shades and think it's quite a nice palette for Summer. The shadows are also really pigmented and creamy, it's also super affordable!
I cannot go anywhere without some winged liner and as always my trusty Maybelline Gel Liner is a staple must have.
For mascara I was using the W7 Oh So Waterproof Mascara and I have to say I really like this. The formula isn't too thick and after getting stuck in rain it's definitely waterproof!
For my brows I was using the Collection Brow Kit which I adore and have yet to find another brow product to replace this with as it's just that good.
For my brow highlight I was obsessing over the Makeup Studio Pigment in Rose Quartz which is the most gorgeous white pigment with a rosen glisten to it.
Finally for bronzing/contouring and highlighting I was back using the Bourjois Delice de Poudre Duo which I've been loving again.
And for my Lips I've been adoring a Red lip, so I've been using the Makeup Studio Red Lip liner and then the L'oreal Blake's Red Lipstick and I just adore the both of them together I'm slightly obsessed!
What's been your go to products for Summer?
♡
I would like to say a big thank you to Jordan for guest posting on my blog as i was in need of help after my big knee operation. If you would like to check out Jordan's Blog "Keep Dreaming" CLICK HERE
Bloglovin | Instagram | YouTube | Twitter