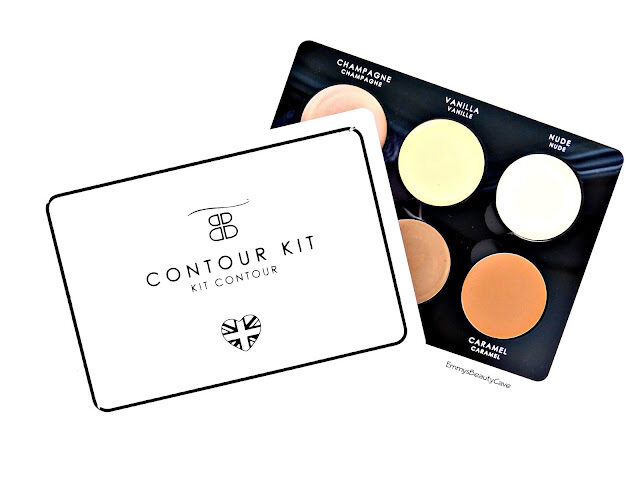 Contouring is part of my daily makeup routine whether its a simple subtle natural contour or a hello cheekbones kind of contour it is always in my routine. I have tried so many contouring products and find most of them disappointing. Trying to find shades to suit my skin tone can be difficult and frustrating. I tend to stay away from drugstore contour products as the shades are very orange! I have only found one drugstore product I can actually work with so mainly I do prefer higher end.
This is where the Beautiful Brows Contour Kit comes in… I was very excited when I received this! When I realised it was cream contour I was a little unsure how I would get on with it as all the cream contour products I have tried I haven't liked. Anyway back to the product itself, well the packaging is stunning! I mean you can tell this is high quality. It comes in a small compact magnetic case. The bottom is black and the top part is white. The top just places or slides on top of the black bottom and sticks with the magnets. It is very sleek and very nice to look at.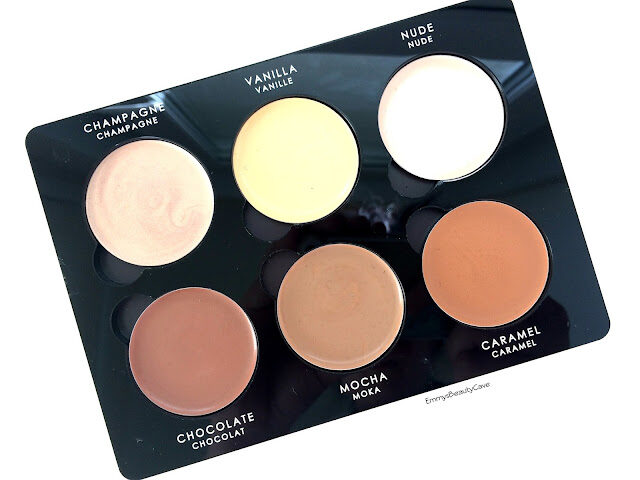 You get six shades which include one shimmery highlight, two brighteners and three contour shades. The consistency of these is unbelievable. Most cream contour products I have tried tend to be quite dry feeling and not that creamy or they are quite thick and hard to blend quickly. When I went to swatch the first shade I instantly couldn't believe how silky it felt. Honestly these are beyond buttery.
The Shades:
Champagne | The ultimate gold/peachy highlight. This will work on all skin tones. I am extremely pale and it works really well but this is the kind of shade that is very versatile.
Vanilla | Your typical pale banana yellow shade, this is perfect for under the eyes especially if you suffer with dark circles.
Nude | A very pale subtle pink, perfect for highlighting.
Chocolate | The darkest brown of the three shades, it is exactly as it says a chocolate shade.
Mocha | This is more on the cool side with a ever so slight grey tint.
Caramel | Your light warm shade, Personally on my pale skin this comes up a little orange so I would suggest this shade is more suited to medium-dark skin tones.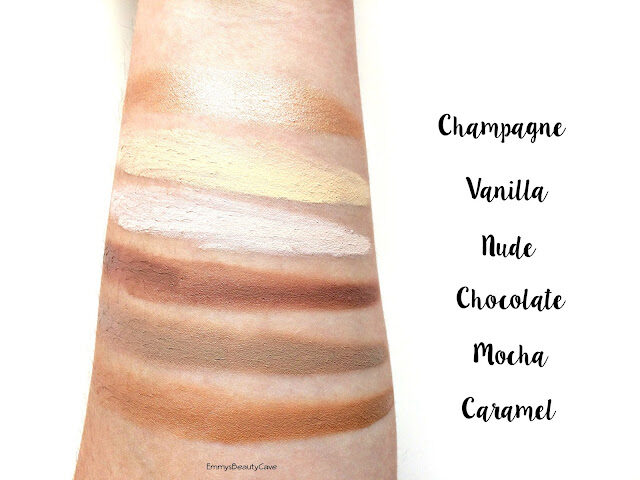 Oh hello, I guess you are finished having those heart eyed emoji's in your eyes over that highlight shade above? Champagne is one stunning highlight shade, I still can't get over how pigmented it is, even on the cheekbones it is such an amazing intense highlight. It can be subtle depending how you apply it. I sometimes even apply a powder highlight on top!
Vanilla and Nude have really impressed me along with the highlight shade. Both of these work wonders at brightening. I do prefer a more pink toned brightener so I mainly use Vanilla for under my eyes on my dark circles then I use Nude slightly on top of Vanilla then bringing it down onto my cheekbones, chin and nose. My favourite contour shades are Chocolate and Mocha as these both work well on my skin tone. I have even been mixing the two together to create a fourth shade. Caramel is slightly orange on my skin tone as I suggested above it would be suited better to medium-dark skin tones.
All of the shades blend beautifully and look flawless. I often find with cream contour it can cling to area's and just doesn't blend well but these are unbelievable. This has to be one of the products that has impressed me most this year. Another thing I love is each pan is removable so you can always pop them into your Z Palette.
Check out the Beautiful Brows Contour Kit on the Beautiful Brows Website. It retails for £40.00 which may seem a little expensive but you are getting six shades which are all usable. I have tried the Anastasia Beverly Hills Cream version and personally I find the Beautiful Brows shades blend alot easier and alot quicker than the Anastasia Beverly Hills version.
*This post includes PR Samples, NOTE all views are my own and my honest opinion. If I don't like a product or have any negative views I will put them on my blog.